Complaint states law firm Jones Day has a frat-like culture that discriminates against female employees.
---
Six former female associates of Jones Day, one of the world's largest, wealthiest law firm, filed suit against it alleging gender and pregnancy discrimination by underpaying them, disallowing them to advance and pushing them out once they had children.  The women say that although Jones Day hires male and female associates in roughly equal numbers, the most sought after duties go to men and that men are paid higher amounts and promoted more often "even when their legal skills are notably deficient."
"In Jones Day's fraternity culture, male brotherhood is affirmed and strengthened by comments and conduct that derogate women, leaving female associates to choose between capitulation and exclusion," according to the filing.  The lawsuit is one of many as of late targeting employers discriminating against pregnant female employees.
Two of the women suing Jones Day, Nilab Rahyar Tolton and Andrea Mazingo, say in the complaint that they worked at the firm's office in Irvine, Calif., until 2018.  The other plaintiffs are not named.
Tolton is a Harvard Law School graduate and is claiming when she returned to the firm from maternity leave, she was given a salary freeze, a negative performance review, and fewer work opportunities. After a second maternity leave, she was told to find a new job.  Mazingo was allegedly "sexually harassed, subjected to verbal abuse, and denied mentorship opportunities, prompting her to leave the firm."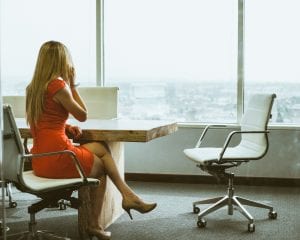 The complaint also contends social events organized by the firm were opportunities for male employees and clients "to harass and humiliate female attorneys."  The plaintiffs stated one of these events include a dinner at which a male partner told three female associates to sing and dance to a Care Bears song, degrading them before the others.  There was allegedly another gathering at a partner's home in which a male associate pushed a female into the swimming pool.
The women were repeatedly subjected to "sexist, sexualized comments and conduct" back at the office, too.  Female employees who had children were "stigmatized as not being committed to their work and were usually terminated," the filing states.  Women who complained about a hostile environment faced "career suicide."
"Jones Day's fraternity culture presents female attorneys at Jones Day with an unpalatable choice: participate in a culture that is at best inhospitable to women and at worst openly misogynistic or forego any hope of success at the firm.  For a female associate to succeed at Jones Day, she must at least tolerate the stereotyped expectations of the firm's male power brokers.  To challenge these expectations by word or deed, even in settings ostensibly provided for 'honest' feedback, is career suicide," the complaint says.
Tens of thousands of women have sued big companies for pregnancy discrimination in recent years.  This month, Tania Zarak, a former manager at Netflix, sued the company in California state court, claiming she was fired soon after she made it known she was pregnant.  Other well-known retailers including Abercrombie and the Dollar Tree have also been hit with lawsuits, Stephanie Charles, a nine-year veteran of Abercrombie & Fitch, claimed she was let go while on maternity leave.
"It felt like what should have been a blissful time wasn't," said Charles.  She said that she was abruptly left without medical insurance when she needed it the most.  "I was supposed to have anxiety because I was up with a newborn. Now I was up worrying about medical insurance."
The Jones Day lawsuit was filed in United States District Court in Washington, D.C., and seeks $200 million in damages.
Sources:
Jones Day Law Firm Is Sued for Pregnancy and Gender Discrimination by 6 Women
Dollar Tree (DLTR) Holding Has Lifted by Landscape Capital Management Llc; Quaker Capital Investments Has Lowered Its Trinseo S A (TSE) Position by $1.16 Million; Market Valuation Rose