One of the judges involved in a fight in a White Castle parking lot is charged.
---
Indianapolis police originally arrested Alfredo Vazquez, 23, and Brandon Kaiser, 41, in connection with the May 1 shooting of two judges who were in the city to attend a judicial conference.  The men were booked into the Marion County Jail and are accused of shooting and wounding Clark County judges Bradley Jacobs and Andrew Adams during a White Castle visit.  In a new development, however, Judge Adams has been indicted along with Vazquez and Kaiser and charged for the fight.  The grand jury failed to indict Jacobs.
According to court documents, "Kaiser, who is accused of shooting both judges, is also charged with battery with a deadly weapon and carrying a handgun without a license.  Adams is accused of hitting and wrestling with Vazquez and kicking Kaiser.  Vazquez and Kaiser are accused of hitting and kicking the two judges."
When he was shot, Adams' colon was damaged, requiring him to wear a colostomy bag.  The shooting also fractured Jacobs' ribs and lacerated his liver.
The Indiana Commission on Judicial Qualifications filed an immediate request for Adams' suspension with pay, which is a requirement when judges are charged with felonies.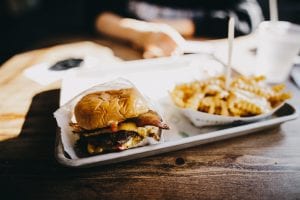 The police report of the incident indicated Kaiser "barricaded himself in his home for more than three hours before surrendering."  A third individual with the group of judges was in the White Castle, and a fourth was with them outside when Vazquez and Kaiser approached them and incited a physical fight before the shooting.  Vazquez initially was charged with assisting a criminal, while Kaiser was initially charged with attempted murder, aggravated battery, carrying a handgun without a license, and battery, according to court documents.
An attorney acting as spokesperson for the judges' families, Larry Wilder, said after the incident, "The families are relieved that the suspects were arrested without harming any police officers.  All that counts is there's an allegation that two of our own were in a place where someone tried to kill them and take their lives.  All the other facts bore me…I find them to be insignificant and irrelevant to what is important."
Kathryn Dolan, a spokesperson for the Indiana Supreme Court, issued a statement immediately following the shooting saying, "Our judges across the state are heartbroken to learn of this violent act against our colleagues.  We send our prayers for a speedy recovery for both Judge Jacobs and Judge Adams and our love and support to their families and the Clark County community."
Both judges were elected to their positions in 2014 and are described as being "held in high regard."   Police said they have not found any evidence to suggest the judges were targeted by the men specifically because of their occupations in the judicial system.   However, there were reports of Vazquez and Kaiser getting kicked out of a bar prior to the fight and were apparently looking to incite an altercation.
"Detective Ron Clayton did a superb job from day one.  I couldn't be more proud of him, or the aggravated assault unit team, as they pieced together this particular case," Deputy Chief Chris Bailey, who oversees investigations at the Indianapolis Metropolitan Police Department said. "What these victims in this case – and one of the suspects – did for a living had no impact on how the investigators did their job."
Sources:
Judges Become Shooting Victims During Visit to White Castle
Indiana judge is indicted for his alleged role in his own shooting at White Castle
1 of 2 judges shot and wounded in White Castle parking lot is charged in the altercation