Federal agency can regulate stem cell treatments, according to judge who sided with the FDA.
---
Federal judge Ursula Ungaro, appointed by President George H. W. Bush, recently ruled in favor of the Food and Drug Administration (FDA) in a lawsuit it brought against a Florida-based stem cell company whose eye treatments have blinded four patients.  Ungaro agreed that the FDA "has the authority to regulate a procedure that uses a patients' fat to create a stem cell treatment, and that the agency is entitled to an injunction ordering U.S. Stem Cell to halt the practice."  Health officials and industry experts have long criticized stem cell treatments that are not research-based and supported by science or approved by the FDA for unrelated ailments, such as Parkinson's disease and multiple sclerosis (MS).
"This case is an important victory in the FDA's work to protect the public health," the FDA said of the judgment. "We've been taking action, like this case, against clinics that abuse the trust of patients and endanger their health.  We will continue to promote the sound and scientific development of regenerative medicine products, but we will not tolerate those in this field who try to skirt the law and put patients in harm's way."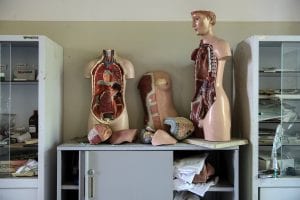 "This decision says the FDA has the authority to define a certain kind of stem cell product as a drug product that requires FDA approval and compliance with other agency rules," said Paul Knoepfler, a stem cell biologist. "There are potentially hundreds of clinics using the same model, and this ruling basically says the FDA can, assuming this is not overturned on appeal, say you are using an unapproved drug, and that's a big deal."
U.S. Stem Cell stopped injecting its treatments into patients' eyes after being sued for the blindness caused by the procedure but continues to sell its 0therapy to people with serious chronic conditions.  In her judgment Monday, Ungaro said that unless the company is ordered to stop, "there is a reasonable likelihood that Defendants will continue to violate" regulations by offering the unapproved treatments.
In a written statement, U.S. Stem Cell responded, "While we believe there is substantial evidence to prove the efficacy of this protocol, we must immediately comply with the court as we review the decision." A spokesperson said the company "plans to continue offering stem cell treatments derived from bone marrow and other tissue."
In the FDA's lawsuit, it accused the company of "openly violating the law and endangering patients by manufacturing an unapproved, experimental drug."  U.S. Stem Cell called the FDA's new rules "a power grab" and argued its treatment "is a medical procedure that can't be regulated as a drug."
Former FDA commissioner Scott Gottlieb called the decision a "pivotal ruling."  He added, "This was a must-win case for the FDA.  It's highly significant in that it establishes the agency's ability to regulate in this space, and it paves the way for the agency to bring more enforcement actions."
Acting FDA Commissioner Ned Sharpless, M.D. said, "We support sound, scientific research and regulation of cell-based regenerative medicine. The FDA has advanced a comprehensive policy framework to promote the development and approval of regenerative medicine products.  But at the same time, the FDA will continue to take action – such as issuing warning letters or initiating court cases – against clinics that abuse the trust of patients and endanger their health with inadequate manufacturing conditions or by manufacturing and promoting products in ways that make them drugs under the law, but which have not been proven to be safe or effective for any use."
Sources:
Federal court issues decision holding that US Stem Cell clinics and owner adulterated and misbranded stem cell products in violation of the law
FDA wins groundbreaking case against for-profit stem cell company