More 'pill mills' are shut down by the U.S. Department of Justice.
---
Federal prosecutors are charging 11 doctors and two other individuals with unlawfully distributing opioids and other substances.  "The alleged conduct resulted in the distribution of more than 17 million pills in the Appalachian region," according to the Department of Justice (DOJ).
The release stated, "The Justice Department announced today the second coordinated law enforcement action of the Appalachian Region Prescription Opioid (ARPO) strike force, resulting in charges against 13 individuals across five Appalachian federal districts for alleged offenses relating to the over prescription of controlled substances through 'pill mill' clinics.  Of those charged, 12 were charged for their role in unlawfully distributing opioids and other controlled substances and 11 were physicians."
Assistant Attorney General Brian Benczkowski, lead investigator in the DOJ's criminal division, said, "The Department of Justice will not relent in its aggressive pursuit of those responsible for fueling the opioid epidemic in Appalachia.  Medical professionals who violate their solemn oaths and peddle opioids for profit should know that we will find you and ensure that the justice system treats you like the drug dealer you are."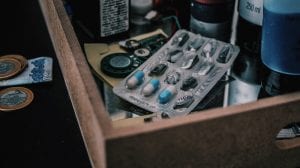 U.S. Attorney Mike Stuart of the Southern District of West Virginia added, "We have taken a very tough stance against those that fuel the opiate crisis at every level including pill writers, pill fillers and drug dealers.  The unlawful distribution of controlled substances is a serious matter that gets my office's full attention.  It is one of our highest priorities for prosecution as we continue with our efforts to protect the public and the people of West Virginia.  And for those that struggle or have a loved one that struggles with addiction and substance use disorder, I again urge treatment and recovery.  While we remain tough in our actions against those who feed this crisis, my sincere and prayerful hope is that everyone who needs help gets help on their path to true recovery."
The Appalachian Regional Prescription Opioid Strike Force filed charges against sixty doctors, pharmacists, medical professionals and other industry professionals earlier in 2019, citing they distributed a whopping 32 million pills.  This was referenced in the recent release.
"We said in April that the ARPO strike force was not a one-and-done spectacle, but an enduring commitment to stamp out opioid trafficking by prescription pad. We meant it," said U.S. Attorney Benjamin C. Glassman of the Southern District of Ohio.  "It's thanks to the partnership between U.S. Attorney's offices, the Criminal Division and our law enforcement partners that the United States is able to investigate and prosecute not only medical professionals who are allegedly acting as drug dealers, but also the myriad other malefactors who have contributed – and are contributing – to the opioid epidemic."
Assistant Director Terry Wade of the FBI's Criminal Investigative Division said of the bust, "Today marks another successful operation by the Appalachian Regional Prescription Opioid Strike Force against the illegal distribution of opioids which endanger our neighbors and the communities we live in.  Through strong cooperation between the FBI and its law enforcement partners, the Strike Force's coordinated efforts resulted in bringing those responsible for this egregious and costly epidemic to justice.  The FBI will continue to make illegal opioid distribution investigations a top priority."
Sources:
Second Appalachian Region Prescription Opioid Strikeforce Takedown Results in Charges Against 13 Individuals, Including 11 Physicians
U.S. Accuses 11 Doctors Of Illegally Peddling Opioids In Appalachian States