Juul's new chief executive says the company wants to build trust with regulators and the public at large.
---
With the federal government keen to crackdown, Juul, the United States' largest e-cigarette manufacturer, says it'll stop selling mint-flavored nicotine pods.
According to The New York Times, the company's decision was made pre-emptively. With hundreds of patients across the country sick with vape-related respiratory illnesses, the federal government has taken an enhanced interest in regulating e-cigarettes. Several states have already banned certain vape accessories and pod flavors.
President Donald Trump has directed the federal government to institute bans on flavored pods, too.
The Food and Drug Administration says its ban-in-the-works will include mint- and menthol-flavored pods. However, intensive lobbying from pro-vape groups 'has heightened speculation that menthol,' at least, will be exempt from any high-level prohibitions.
The Times notes that Juul's decision also accompanies another announcement: major surveys indicating a year-over-year spike in teenage e-cigarette use.
Part of the reason regulators have been keen to crackdown on vaping is its perceived popularity among youth. Throughout the 1990s and early 2000s, rates of nicotine abuse continued to flitter downward.
But after e-cigarettes hit the market en masse, teen nicotine use began inching upwards. Just over a quarter of high schoolers report using e-cigarettes recently or regularly. And patients of all ages have found themselves hospitalized after trying to vape THC-containing compounds.
"These results are unacceptable and that is why we must reset the vapor category in the U.S. and earn the trust of society by working cooperatively with regulators, attorneys general, public health officials and other stakeholders to combat underage use," said Juul's recently-appointed chief executive, K.C. Crosthwaite.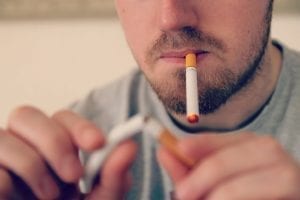 Crosthwaite, adds CNBC, has enacted major overhauls at Juul since taking command of the company this past September. He's restructured the company, shuffled jobs, and refrained from all product advertising in the United States.
Juul—which has always posited itself as an alternative for adult smokers—has retrenched the value of its products for people trying to quit combustible cigarettes.
Nevertheless, Juul's controversial marketing tactics and mass youth appeal have made it a focal point for anti-vaping lobbyists and researchers.
One of the surveys, published in The Journal of American Medical Association, showed that more than five million minors reported recent e-cigarette use. That figure is up nearly 20% from last year.
That survey, says the Times, included a question about which e-cigarette devices youth prefer. Juul was an overwhelming favorite, with 59% of high schoolers usually vaping with Juul, versus 54% of middle school users.
Fruit flavors were the most popular among teens and tweens, followed by mint and menthol.
Sources
Juul Ends E-Cigarette Sales of Mint-Flavored Pods