Even after facing a flurry of lawsuits, analyses indicate that Kansas's prison health contractor, Corizon, doesn't meet state standards of care.
According to the Associated Press and Kansas City Star, hundreds of documents were looked over in the analysis. Performance reviews ranging from July 2015 to December 2018 showed that inmates were regularly denied the right to see physicians, even after lodging multiple complaints about the same ailments.
Worryingly, nearly a fifth of the state's 10,000 inmates have been prescribed psychotropic medications—but many prisons don't have dedicated psychiatric support. Some facilities, says the AP, didn't report any hours worked by a psychiatrist for months at a time.
And Kansas has taken some punitive action. Within the same three-month timeframe, the state fined Corizon $1 million for failing to meet care standards. It also levied another $6.4 million in penalties because the contractor didn't meet staffing requirements.
An April article, published in the Kansas City Star, details the death of Marques Davis.
The Hutchinson Correctional Facility inmate purportedly complained of severe headaches and muscle fatigue. And for months, Corizon staff repeatedly brushed him off. He was only given proper attention after his condition so thoroughly deteriorated that he was bedridden in the infirmary.
Davis, says the Star, was so disoriented at the time of his intake that he soiled himself and drank his own urine.
He died, in part because of Corizon contractors didn't take his complaints seriously and therefore couldn't diagnose that he was slowly being killed by a brain-eating fungus.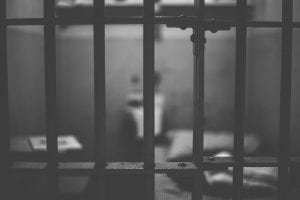 While the Star notes that Davis's ailment was unusual, Corizon's lackluster response wasn't. Leland Dempsey, a Kansas City lawyer representing Davis's mother in a suit against the company, points to its performance reviews as evidence of negligence.
"It's showing a clear and persistent pattern of delaying, postponing or not providing necessary medical treatment," Dempsey told the Star last week. "That's what this is showing, and that's what our whole lawsuit is about."
The only reason Corizon's records are open to public perusal is that Kansas is one of a very few states that mandates a third-party keep tabs on its health contractor. Every month, a team from the University of Kansas Medical center reads over and reviews a sampling of medical records from prisons.
Corizon, adds the Associated Press, earns about $70 to $80 million per year from its Kansas contract. Yet Corizon's purportedly poor performance hasn't led it to institute any wide-ranging or sweeping changes.
"I would hope the people of Kansas and their representatives would have a strong interest in whether the $70 million is being well spent and whether they are getting their money's worth," Eric Balaban, a senior staff attorney with the American Civil Liberties Union's National Prison Project, told the A.P.
According to Balaban, Corizon appears to write off the state's fines as a cost of doing business in Kansas.
The Tennessee-based company has attracted scrutiny across the nation, with numerous states and plaintiffs having taken legal action against it. The Southern Poverty Law Center is currently suing Corizon in Alabama, whilst a federal judge in Oregon recently awarded $10 million to the family of a young woman who died after being denied treatment in the throes of heroin withdrawal.
Sources
Fungus destroyed inmate's brain while Kansas prison contractor did nothing, suit says
Kansas prison contractor's negligence forced removal of woman's colon, suit alleges
Kansas prison health care provider falling short
Locked out of care: Brain fungus death points to extensive problems in Kansas prisons