The lawsuit is the latest to accuse Oklahoma of punishing the poor by operating a debtor's prison.
---
A civil rights lawsuit filed in Oklahoma accuses three judges of essentially running a debtor's prison, jailing impoverished residents who can't afford to keep up with court-ordered fines and fees.
Filed on Washington County on Thursday, the suit also names the Oklahoma Indigent Defense System and its board of directors as defendants. According to the Associated Press, the complaint accuses the agency of complicity, incentivizing attorneys to close cases quickly and without regard to clients' rights or welfare.
"Proceedings in Washington County provide an extreme example of Oklahoma's broken fines and fees system," claims the lawsuit. "No ability-to-pay inquiry is made at the time of sentencing, nor are defendants advised of their right to such an inquiry by their OIDS public defenders."
InjusticeWatch.org shares the story of Sharonica Carter, a Tulsa resident who was incarcerated at a juvenile detention center.
Released in 2013, Carter was responsible for the payment of a $2,700 fine imposed when she was sentenced in 2011.
Five years later, that amount has grown to $5,000.
"The debt endangers Ms. Carter's ability to afford basic necessities," the suit states. "Her indigence and consequent inability to pay her fines and fees places her in imminent danger of repeated incarceration."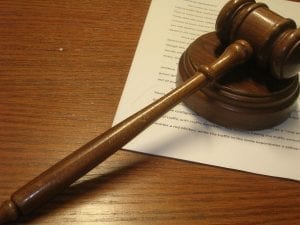 InjusticeWatch claims that Carter has been subjected to two more jail stays, implying but not clearly stating whether they were a direct consequence of outstanding financial penalties.
Represented by the Lawyers' Committee for Civil Rights Under Law, Carter and other Oklahomans argue that the trio of Washington County judges have been abusing the local legal system for years.
Indigent defendants, claims the Committee, are being repeatedly denied rights guaranteed under the U.S. Constitution and its Oklahoma counterpart. State law also mandates that courts make an ability-to-pay determination when assessing fees and costs.
The Associated Press reports that Washington County District Attorney Kevin Buchanan declined to comment, saying he hadn't reviewed the lawsuit. Other requests for left with Special Judge Jared Sigler and the executive director of the Oklahoma Indigent Defense System weren't returned.
Two of the other judges named in the suit—John Gerkin and Curtis Delapp—recently stepped down.
Delapp, writes the Associated Press, resigned last year. He'd been standing trial before the Oklahoma Court on the Judiciary for abuse of power.
Among the hundreds of people Delapp sent to jail for contempt of a court was a woman ordered incarcerated for four days—she had purportedly angered Delapp by eating sunflower seeds in court.
The AP also spoke to Myesha Braden, director of the Lawyers' Committee for Civil Rights' Criminal Justice Project. Braden says the organization has been analyzing cases in Oklahoma, Arkansas and Louisiana, all of which suggest systematic abuses of power by local judges.
Braden said the problem is particularly prevalent in Oklahoma, where courts have created an "offender-funded justice," in which criminal defendants must return or subsidize the costs of prosecution.
"We kept seeing a lack of care or concern for individuals who were poor and unable to pay fines and fees," Braden said.
An OK Policy analysis published last year suggests that the problem is indeed rampant—the institute found that, in some counties, up to two-thirds of all felony cases resulted in eventual failure-to-pay warrants.
Similarly, a 2016 New York Times opinion piece on Oklahoma's debtor prisons termed the system—one in which impoverished parents are often forced to choose between feeding their children and avoiding arrest warrants—"grotesque as well as Kafkaesque."
Sources
Debtors' prison faces Oklahoma defendants, lawsuit states
Lawsuit Alleges County in Oklahoma Running Debtor's Prison
Oklahoma's debtors' prisons aren't just a nuisance – they're an epidemic