Maine's Medicaid covers Hepatitis C drugs, but the state won't pay inmates dying of the disease behind bars.
---
Inmates in Maine are putting together a class action lawsuit against the state Department of Corrections, claiming its medical facilities neglected to treat prisoners with Hepatitis C.
Leading the suit is Maine State Prison inmate Mathiew Loisel. He, along with "a class of similarly situated" inmates, filed a complaint in federal court on Wednesday.
WGME13 reports that the prisoners have named as defendants the Maine Department of Corrections, along with its commissioner, Randall Liberty, and Maine State Prison Warden Matthew Magnusson.
Also charged with neglect is Wellpath LLC, a private contractor that provides healthcare services to inmates across Maine.
The complaint, writes WGME13, claims that the Department of Corrections refused treatment for "hundreds of inmates who are diagnosed with chronic [Hepatitis C] until the disease has progressed to the point where they have permanent liver damage."
Loisel claims that more than 500 inmates in Maine prisons have been diagnosed with chronic Hepatitis C.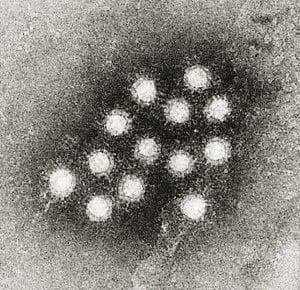 "The reason why we've alleged this is a class action is because we think Mathiew is representative of a whole class of similarly situated individuals, that this is really a grave public issue," said attorney Miriam Johnson, who's representing Loisel in the lawsuit.
Hepatitis C—sometimes abbreviated as HCV—is a highly infectious, progressive disease. Maine Public notes that HCV, left untreated, can scar the liver. Uncontrolled, it can cause intense pain, cancer and even death.
However, HCV isn't uncurable or always difficult to treat. Some medications can tackle the disease head-on. But hepatitis-fighting drugs—or at least the ones approved by the Food and Drug Administration—aren't cheap. An adequate course can cost tens of thousands of dollars, spread over the course of months.
"Mathiew was diagnosed with Hepatitis C in March of 2014, and, since that time, it has turned into chronic Hepatitis C virus," Johnson said. "His manifestations have included things such as fatigue, severe abdominal pain, and he has been monitored by the Department of Corrections."
While the DOC monitors HCV-positive inmates' blood levels every six months, its policy isn't otherwise accommodating. Maine doesn't provide antivirals to hepatitis-afflicted prisoners, even though the state Medicaid program covers the cost of HCV medications.
"This is a grave public health issued," Johnson stressed. "The policy of denying appropriate medical treatment to prisoners with chronic HCV is not only cruel and unconstitutional—it also facilitates the spread of a dangerous and costly epidemic.
"This policy was inherited by the current administration. We are hopeful that the new administration will work with us to put new policies into place to resolve this issue."
Sources
Lawsuit claims Maine refused to provide hepatitis C treatment to hundreds of inmates
Maine State Prison Inmate Files Suit, Says Hundreds Of Inmates Were Denied Hepatitis C Treatment