Michigan man said he only wanted to scare girlfriend's husband with ax.
---
A Lansing, Michigan, resident recently admitted in court to killing his girlfriend's husband with an ax.  Jacob Ficher testified he'd only intended to scare Ammar Al-Yasari, 35, by wielding the weapon while he confronted him because Al-Yasari had "physically, emotionally and sexually abused his wife," Bdour Al-Yasari, with whom Ficher was having an affair.
Ficher was the defense's first and only witness in his own trial for homicide, and he testified, "I thought killing him would be too good for him."  Fisher and his girlfriend, Bdour Al-Yasari, are charged with murder and conspiracy to commit murder in Al-Yasari's death.
Ficher also testified that he hid in the Al-Yasari's home with the ax on the day of the murder, waiting for the man to return.
"I didn't plan on hurting him," Ficher said.  But, he continued, when Ammar came at him, Ficher hit the man with both his fists and then the ax.  He also said he pushed him, and when Ammar came at him again, he "hit even harder."  That's when he struck Ammar with the fatal blows.  By the time the brawl was over, Ficher had hit Ammar two dozen times in the head, neck, and face.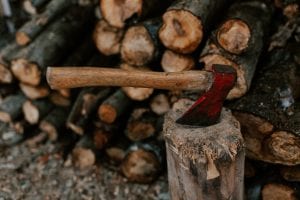 "Seventeen would have been catastrophic and fatal almost immediately," Ingham County Medical Examiner Patrick Hansma said after examining the body.
Assistant Prosecuting Attorney Bill Crino questioned Ficher's alleged intentions, saying during cross examination, "Your intent was not just to kill him, your intent was to brutalize him."
"False," Ficher fired back.
Ficher and Bdour had been engaged in an intimate relationship since August 2018.  They had split briefly last month after Ficher finally discovered this girlfriend's husband and two children.  They reunited, however, devising a plan for Bdour to file for divorce and resettle with the kids on the West Coast, where Ficher said, Bdour "would feel safe."
When the divorce plans evidently proved more difficult to carry out than the couple intended, they began planning to kill Ammar instead, according to prosecutors.  Crino repeatedly asked Ficher if he hated Ammar to which the man denied it each time he was asked.  He said he did not want to get Ammar out of the way so the couple and children could run off together, but rather, he wanted to scare him into stopping the abuse.
"He wasn't an impediment, he was a rapist and abuser," Ficher said, who added he frequently saw injuries on Bdour's body from the alleged attacks.  He said she also had scars, indicating it had been going on for stop time.
"I made it very clear that I hated his actions," said Ficher, who was a U.S. Army serviceman. "Soldiers don't fight because they hate what's in front of them, but because they love what's behind them."
During the trial, Ficher said Bdour had nothing to do with her husband's death and that he had carried it out on his own accord.  After the killing, he posted what he'd done on Snapchat and told her not to allow her children back into the home.  Closing statements are scheduled, after which a jury will deliberate.
Sources:
Man confesses to killing girlfriend's husband with an ax: 'I didn't plan on hurting him'
'They simply wanted Ammar dead': Trial for man charged in Holt ax murder begins