Robert Marzejka Jr. stands trial for the death of his sister and her boyfriend.
---
Testifying at his brother's murder trial Friday, Kevin Marzejka, 24, said as he looked around his sister, Danielle Marzeka's, home in fall of last year, "Something seemed off.  Something was wrong.  Something made me believe something bad had happened in there.  I couldn't tell what."
His sister shared a home with her boyfriend, Seren Bryan, and was known to stay at her friend's placed, sometimes for days.  But, on August 26, 2018, no one had heard from the 18-year-old or her 19-year-old boyfriend, both of Shelby Township, for several days.
Kevin Marzejka checked the bedroom window to see if the home in Rudgate Clinton mobile home park had been broken into, but that didn't appear to be the case.  So, he said, he "went outside and walked around the perimeter of the home, looking for blood or other signs of foul play."  Then, Marzejka noticed "thousands of flies outside of the storage shed."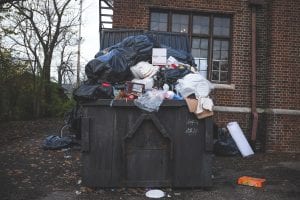 He unlocked the unit and was hit with a horrid smell.  He told his father, Robert Marzejka Sr., that something was dead inside, but it could be a wild animal.  He then moved two mattresses and a lawnmower, and along the back, he noticed to large garbage bags.  He touched the outside of one and felt what he thought was an arm or a leg.
"As much as I wanted to open the bags, I couldn't bring myself to do it," Marzejka said from the witness stand in Macomb County Circuit Court.  He testified against his own brother, Robert Marzejka Jr., who was just a few feet from him.  He and his father "debated for almost 15 minutes about who should cut open one of the bags."
"He was in shock.  He kept saying, 'Tell me it's not her,'" Kevin said of the possibility of the bag containing his sister.  Then, they both noticed a leg and immediately called 911.   Of his father, Kevin continued, "He just kept repeating the same line: 'Tell me it's not her.'"  Once authorities arrived at the scene, the bags were taken away and the contents later identified as remains.
Robert Marzejka Jr., now 26, was nowhere to be seen that day.  Around "midnight or 1 a.m. Aug. 27," Kevin Marzejka indicated he sent him a text message. After Kevin told Robert Danielle was dead, he replied "OMG" and "OMFG."  Robert said he was with a woman named Melissa.  Kevin didn't recognize the name and asked for her number when Robert said his phone was going to die but didn't get a reply.
Police said Robert Marzejka Jr. drove a white van he shared with others in the family to Toledo, Ohio where he boarded a bus, and he was arrested by the U.S. Marshals Service on Aug. 28 in Cincinnati, Ohio, after a three-day manhunt.  Robert has been charged with first-degree murder.
Trial evidence showed Danielle Marzejka and Seren Bryan were bludgeoned with a 27-ounce hammer and asphyxiated with black duct tape wrapped around their faces.  This was also around their wrists and ankles.  An autopsy determined "Danielle Marzejka died of asphyxiation and blunt force trauma to the head," and Bryan, of "asphyxiation with blunt force trauma to his head."
A Clinton Township police officer said, "the victims likely were attacked in the bedroom they shared at the mobile home, where at the time her younger brother and father also resided." Defense attorney Azhar Sheikh explained his client, Robert, was "insane" and "hearing voices around the time of the incident."  He also said he was schizophrenic and was not in his right mind at the time he was apprehended.
Sources:
Brother of dead Clinton Twp. teen: 'something was wrong'
Man charged after sister, her boyfriend found dead in Clinton Township shed will stand trial