The 87-year old former sheriff was recently convicted of criminal contempt for racially profiling Latinos.
---
Joe Arpaio, once billed as "America's toughest sheriff," is trying to regain his spot as Maricopa County's top lawman.
Arpaio, writes The New York Times, was first elected sheriff of the Arizona county in 1992. He was defeated by a Democratic challenger in 2016, following years of controversy. Accused of violating the constitutional rights of Latinos and then ignoring a court order to stop, Arpaio was convicted of criminal contempt—but a presidential pardon appears to have reversed the longtime-sheriff's fortunes.
Now, despite losing his last election to a liberal contender, Arpaio believes Maricopa County wants him back.
"On this day, August 25th, 2019, after conclusion and approval from my wife of 61 years, Ava, I have decided to run to be re-elected Sheriff," Arpaio said in a recent news release. "Watch our world! We are back!"
During his 24-year old long career, Arpaio routinely drew the ire of civil rights activists. He ran a "tent city" jail in Maricopa County, forcing inmates to perform hard labor in triple-digit heat.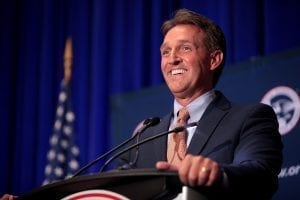 While Fox News says Arpaio was also known for "cracking down on illegal immigrants," the truth is a degree more nuanced. Arpaio's office was repeatedly slammed for racially profiling Hispanic motorists. Even after a federal judge issued an injunction against the Maricopa County Sheriff's Department, Arpaio directed his deputies to continue pulling over Hispanic-looking motorists to check whether they were in the United States legally.
Due to his refusal to comply, Arpaio was charged with and convicted of criminal contempt.
But to Arpaio's supporters, the former sheriff was a man maligned. His case caught the attention of President Donald Trump, who once referred to Arpaio as "an American patriot."
"He kept Arizona safe!" Trump once tweeted.
The President, after months of hinting at a pardon, approved one for Arpaio in 2017. And Arpaio, notes The New York Times, has been trying to get back on the war path ever since. He attempted to challenge Sen. Jeff Flake, ultimately finishing third in the Republican primary.
Now that he's reconsidering his old office, critics are again opening fire.
"President Trump might've pardoned him, but those who had families and communities destroyed by his unlawful tactics have not," said Alexandra Soler, executive director of the American Civil Liberties Union of Arizona. "Joe Arpaio is a racist—and he should never hold public office again."
Arpaio, adds the Times, doesn't appear intimidated. Not only did he announce his candidacy on the second anniversary of President Trump's pardon, he's also promising to reinstate his "popular jail policies" while "[continuing] to enforce all Arizona laws that deal with drug trafficking, sex trafficking and other crimes associated with the border and illegal immigration."
"The last four years have proven to be a time of lost opportunities to continue the kind of tough policing this county needs," Arpaio said in a statement. "Once back in office, I will use my position to restore pride to our law enforcement ranks, not only here, in the fourth-largest county in Arizona, but across the country."
Sources
Ex-sheriff Joe Arpaio, pardoned by Trump, wants his old job back
Joe Arpaio announces run for seventh term as Maricopa County sheriff
Joe Arpaio Says He Will Run Again for Maricopa County Sheriff