Two Maryland attorneys who posted in the 'Forum of Hate' are up for disciplinary action by the state's Attorney Grievance Commission.
---
Two attorneys have been accused of participating in an email chain affiliated with a group that calls itself the "Forum of Hate" and now they should be disciplined, according to the Attorney Grievance Commission of Maryland.  According to the petition for discipline, one of the lawyers, James Markey, was an administrative law judge at the Board of Veterans' Appeals, while the other, Charles Hancock, was an attorney adviser at the Board of Veterans' Appeals.
Both attorneys "used their official government email accounts to send and receive offensive and inappropriate emails with three other group members," according to the petition to determine whether they'll be disciplined, which adds, "Markey and Hancock used offensive terms to refer to minorities and women, participated in email chains mocking officials' accents, and participated in email chains using gay slurs."  In the same chain, Hancock "referred to [a chief administrative law] judge as 'G-Pot,' which stands for "ghetto hippopotamus," according to records.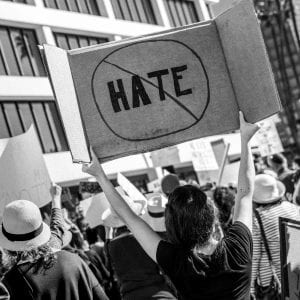 Hancock was admitted to the Bar on December 15, 1988, and he retired from his position in late 2017.  Markey was admitted to the Bar on December 14, 1994, and he was forcibly removed from his position via a decision made by the Merit Systems Protection Board (MSPB).  The mission of the MSPB is to "Protect the Merit System Principles and promote an effective Federal workforce free of Prohibited Personnel Practices."  And, MSPB's vision is a "highly qualified, diverse Federal workforce that is fairly and effectively managed, providing excellent service to the American people."
When the decision was made, Markey initially defended the chain, indicating it was simply a "way to blow off steam" and inject some humor to the parties' conversations.  The MSPB didn't think it was funny, however, and in the petition and in notes from the board, were several examples of derogatory content, as follows:
"- Markey altered a news article about a sheriff who posted gun rights videos while shouting obscenities about liberals, minorities and the Second Amendment.  Markey altered the article to say the sheriff's supporters got into a heated debate with an opponent, 'a fast food working, basketball type playing man.'  Markey's alteration said the opponent 'left, timidly, when 11 people…tossed ropes at him.';
– Hancock said the employee described as G-Pot was 'a despicable impersonation of a human woman, who ought to [have] her cervix yanked out of her by the Silence of the Lamb guy, and force fed to her.';
– Hancock used offensive terms when he said there were no minorities on his son's Little League team. Markey responded, 'Nice, but where are the white sheets? Gotta start them when they are young.'"
All of these points are proof the attorneys should be disciplined.  The board noted "there was no evidence" that Markey had written anything in the correspondence "against a veteran based on race, sexual orientation, sex or national origin."  However, a lawsuit was filed by two veterans' groups seeking "records of decisions to determine whether there was bias in the adjudication of claims for disability benefits," according to the groups' petition, and this case has been settled.  The three other parties involved in the chain are unable to be reprimanded by the Grievance Commission, because they are not members of the Maryland bar.
Sources:
The Forum Of Hate: Emails Draw Bar Charges
Lawyers accused of misconduct for offensive, inappropriate emails about colleagues, minorities
U.S. Merit Systems Protection Board
Veterans Affairs Takes Action Against Five Staff Members Over Alleged Discriminatory Remarks