McDonald's has had its fair share of criminal activity worldwide, endangering employees and visitors.
---
No matter the location, it's evidently risky to hang out at McDonald's.  The fast food chain has certainly seen it's fair share of crimes, worldwide, lately.  Take a spree that happened in England for instance.  Stephen Colloton, 39, and Danielle Brown, 26, stole vehicles and robbed houses at knifepoint, killed one victim and used stolen bank cards to buy McDonald's all in one night near Wisbech.  They were later arrested and this month, Colloton was sentenced to fourteen years in prison and Brown to four years.
Also this month, in Lake City, South Carolina, Damien Muldrow, 26, was denied bond in a court hearing after he was charged with attempted murder and possession of a weapon during a violent crime at a McDonald's.  The victim was an employee.  Muldrow reportedly placed an order inside, then the employee followed him outside where he was shot in the leg.
In Fairview Park, Ohio, On August 3, a man was asleep in a booth at McDonald's.  He had not ordered any food and a manager said he often shows up there, never orders anything and "makes the customers nervous."  He had left before police arrived, but they found him nearby.  When they told the man he would face trespassing charges if he returned to the fast food restaurant, he yelled at the officers and said he would go back whenever he wanted.  Officers recognized him from having run ins with the man before and he was arrested on an outstanding warrant.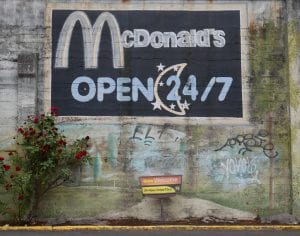 In July, two people were arrested following a shootout near a McDonald's drive-thru in Memphis, Tennessee.  According to police, individuals in two separate vehicles were shooting at each other near the fast food chain's drug-thru window.
In June, the Occupational Health and Safety Administration (OSHA) filed a report stating employees at a McDonald's on the south side of Chicago "have witnessed 31 violent incidents over six months during the past year, including physical and customers attacking workers over missing French fries."
The complaint also cited numbers from the National Employment Law Project (NELP), a worker rights group that tallied 721 news accounts of violence at McDonald's stores worldwide over the last three years, with guns involved 72% of the time.  The police department in St. Louis also listed 67 violence incidents at McDonald's in the city during the last three years.  In Chicago, more than 21 calls are made on an average day to emergency services from McDonald's stores in the city.  One Chicago McDonald's was the had 1,356 calls to 911 in the last three years.
"Interviews with workers suggest that McDonald's is not sufficiently training staff or equipping its stores consistently with violence hazard controls, such as cash handling procedures, necessary visibility, panic buttons accessible to all staff, and safe drive-thru windows to prevent violence or at least minimize the number and severity of such incidents," NELP's report stated.
McDonald's submitted a statement saying: "We believe every person working in McDonald's restaurants deserves to do so in a safe and respectful environment and, along with our franchisees, have invested in programs worldwide that promote safe environments for customers and crew members.  This includes clear policies that strictly prohibit violence, threats of violence and other conduct that jeopardizes or harms the safety of employees and others in the workplace and during work-related activities."
Sources:
Suspect in Lake City McDonald's shooting denied bond
Couple spends night of crime stealing cars, robbing houses and eating McDonald's
31-year-old man hanging out at McDonald's makes customers nervous: Fairview Park Police Blotter
2 people arrested after shootout between cars near Memphis McDonald's drive-thru, police say
McDonald's Employees are Regularly in Danger at Many Locations