Patients visits Parkview Medical Center's emergency department and is released without spinal cord injury identified. He is permanently paralyzed and settles lawsuit for $2.8 million.
---
A Colorado jury has awarded $2.8 million to a 66-year-old man who became permanently paralyzed after staff at the Parkview Medical Center in Pueblo, Colorado, failed to recognize a spinal injury when he came to the emergency room for treatment, according to court records.  The emergency team was "negligent in its treatment of Samuel Chifalo following a fall on Feb. 11, 2016, in which the man struck his face on a piece of furniture and sought hospital care," a statement by Denver attorneys David Woodruff and Henry Miniter read.  The attorneys added that the award was one of the largest jury verdicts in Pueblo County history.
"This case, like all medical malpractice cases, was incredibly sad because Mr. Chifalo will never fully recover what he lost," Woodruff said.  His client was 63 at the time of the incident.
If Chifalo's condition had been treated promptly with neurosurgery, the patient's spinal injury could have been reversed.  However, the medical team discharged him without acknowledging this injury.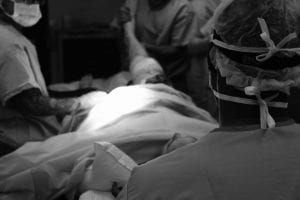 Woodruff presented evidence that the Parkview Hospital's emergency department team should have recognized the "weakness and lack of motion in Chifalo's arms and legs.  Instead, the nursing staff failed to transmit information from the paramedics about Chifalo's symptoms, leading to his premature discharge.  By the time Chifalo returned to the ER the following morning, his spinal cord injury was irreparable," according to records.  Now, Chifalo is an "incomplete quadriplegic, unable to use his legs and his left arm, with only limited sensation and movement in his right arm," Woodruff said.
Chifala is a retired heavy-equipment operator with seven grandchildren. The decision came after a nine-day jury trial.
Back in 2015, George Baca also filed a lawsuit today against Parkview Medical Center alleging that Parkview "denied Mr. Baca, who is deaf and communicates using American Sign Language, a sign language interpreter for several days while his minor daughter was receiving emergency care after being struck by a car on July 6, 2013," according to court records, which further state, "After his daughter was taken to Parkview, Baca immediately asked for a sign language interpreter so he could stay informed of his daughter's critical condition.  Despite requesting an interpreter multiple times, Baca was not provided with an interpreter until several days into his daughter's hospital stay.  During that time, medical staff communicated with Baca about his daughter's serious injuries solely via handwritten notes."
The hospital agreed to update its procedures after the lawsuit in order to better accommodate similar situations in the future, evidently committed to improving patient care, and the case was resolved after an undisclosed settlement was reached.  Records also show in late 2018, Parkview named a new COO, Darrin Smith, who had been at Parkview in various capacities since 2005, including roles in its human resources department, employee health department, employment and recruiting office, Thatcher Learning Center, and volunteer services.  Upon accepting his new post, Smith indicated his top responsibilities would be to "build upon the relationships between Parkview, its physicians and staff, as well as to expand the hospital's outreach and maintain its standard of providing quality health care."
Sources:
Nine-day trial in Pueblo ends in $2.8 million verdict
Colorado jury awards paralyzed man $2.8 million after hospital staff failed to recognize spinal injury, attorney says
CREEC in Court: Deaf Dad Sues Pueblo's Parkview Medical Center Over Failure to Provide Interpreter