Montana Attorney General Tim Fox is taking a challenge to Missoula City's gun ordinances to the state supreme court.
Fox already lodged an appeal with Missoula District Court, which didn't pass muster. The petition for escalation to the Supreme Court was filed on November 29th.
However, Fox has yet to file an opening brief.
The Missoulian reports that the attorney general's appeal 'focuses on three rulings made by Missoula Judge Robert "Dusty Deschamps in October and November. The first effectively overturned Fox's decision voiding a city ordinance requiring background checks on all gun sales in Missoula."
That law, writes the Missoulian, was passed in 2016 but never went into effect after Fox's order was announced.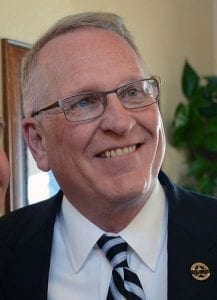 An appeal claiming the city's right to ensure firearms stay away from felons was successful. Deschamps ruled in favor of Missoula, suggesting that local lawmakers have the power to limit the sale and transfer of firearms.
Fox is also seeking a reversal of October legislation, passed by the Missoula city council.
The series of local laws restrict where and when firearms can be carried. The amendment, writes KPAX.com, bans weapons in public buildings, places of assembly and "any other locations of public assembly where persons gather together to conduct and/or administer any public election while election-related activities are taking place."
Political rallies and polling areas would fall under the ordinance's authority, too.
Preceding laws only banned weapons and explosive devices from Missoula City Hall and public school properties.
Worryingly for gun rights advocates, the law gives no provisions for people with concealed carry permits.
KPAX says that Missoula City chose to make city council chambers, public museums, libraries and several parks gun-free zones, too. The city claims its ordinance was enacted for "public safety purposes."
Before the city council passed the resolution, citizens spoke out during a mandatory public comment period. Some supported the ordinance and others remained starkly opposed.
"I urge you to pass this amendment, to make all the citizens of Missoula safe as we go to the polls to vote," Jean Larson of Moms Demand Action said.
Mike Stramer, who has a concealed carry permit, was less supportive.
"I have no desire to use my weapon to protect someone else, just myself. It's not my responsibility, it's theirs. Nor do I want to be a complement to local law enforcement and the sheriff employees," Stramer said. "I've never drawn my gun on a person and I pray I never will."
The Missoulian notes that city officials hailed Deschamps' rulings as 'a public safety win.'
Fox's office, conversely, has voiced concern that Missoula's victories could lead other cities to follow suit, leading to an inconsistent legal landscape for gunowners across Montana.
Sources
AG Fox Appeals Missoula Gun Lawsuit to State Supreme Court
Missoula council approves expanded gun ordinance
Montana Attorney General appeals Missoula gun ordinance ruling to state Supreme Court