Much-anticipated New Migraine Medicine Still Difficult to Get
---
In the spring, weeks before the new migraine medicine Aimovig hit the market, patients around the country were contacting the UCSF Headache Center, hoping to get on the medication as soon as it became available.  Aimovig is the first in a new class of drugs developed to treat migraines.  However, even after being approved by the U.S. Food and Drug Administration (FDA), actually getting it to patients has proved challenging due to the medicine's high price tag.
"We have a lot of very, very good opportunities for treatment emerging nowadays," said Dr. Nina Riggins, a neurologist with the UCSF Headache Center. "We're being approached all the time by patients to give our opinions.  But we run into problems all the time."
Approximately 1 in 7 people in the United States suffers migraines and up to 3 million people have chronic migraines.  These headaches cause severe pain, brain fog, intense nausea, fatigue, and light and sound sensitivity.  A migraine medicine that could reduce a patient's pain on a 10-point scale from an 8 to a 4 would be extremely beneficial.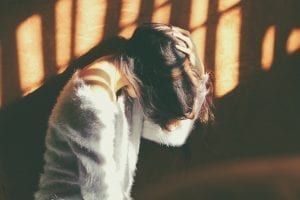 "An 8, maybe I can't stop vomiting.  It's like I'm a raw nerve and any sensation, any noise, any smell would be hard," said migraine sufferer, 47-year-old, Rebecca Brook. "I could function like most people at a 4.  If I had a 4, that's no problem."  When Aimovig was approved, "I felt desperate to get it," Brook said. "It was like, let me get my life started."
However, Brook's insurance provider refused to pay for the monthly injection at a cost of about $575 per dose.  Thankfully, pharmaceutical companies Amgen and Novartis had anticipated that some insurers wouldn't pay, so they devised a program to provide patients with Aimovig at low or no cost for up to a year.  Brook took advantage of this and has been on it for three months now.
"Every other treatment that's supposed to help migrainers, I have failed," Brook said. "And then I had this experience, where for two days something was happening.  And I thought, 'Oh my God, are they going to take away my Aimovig?'"
Dr. Matthew Robbins, chief of neurology at Montefiore Medical Center in the Bronx, said he sees many patients who are struggling financially and often wonders when the "free months are up, are they going to have to come off of the drug?  The co-pays are too expensive."
Drug therapies to treat migraine headaches work by interfering with the action of a protein called CGRP.  Aimovig was the first to win approval, in May of this year. Two other medicine options, Emgality and Ajovy, were approved a few months later in September.  There are also devices that are wearable instruments patients put on their forehead or the back of their head to stimulate nerves known to be affected by migraines.  The new drugs are all designed to prevent migraines, not treat them once they've started. The devices are for prevention and treatment.  They all cost about the same.
The new anti-CGRP migraine medicine seems to have fewer side effects than traditional therapies, according to clinical trials.
"These older drugs, I don't want to dismiss them.  We still use them.  I'm grateful we have them," Riggins said of existing migraine medicine on the market. "But we can offer quite a few new things nowadays, which is extremely exciting. The (anti-CGRP) drugs especially are really a game changer."
Sources:
Amgen's new migraine drug hits insurance hurdles
Migraine patients' coverage headache: FDA OK doesn't mean insurance will pay