Native American leaders are banding together to pressure U.S. officials to ban oil and gas exploration around sacred tribal land that features massive stone structures and other remnants of an ancient civilization. Tribes are pushing for further protections around Chaco Culture National Historical Park.
Federal officials repeatedly have denied drilling leases within a 10-mile radius of the park as environmentalists and archaeologists have raised concerns about ceremonial structures sacred to the civilizations that once inhabited the area. A thousand years ago, the site was a ceremonial and economic epicenter for the Pueblo people, according to historians.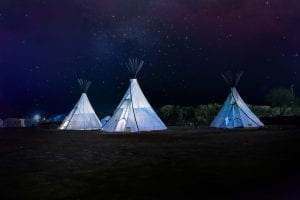 Tribes recently gathered at Acoma Pueblo, a Native American community about 60 miles west of Albuquerque, to reaffirm support for protecting the land. Navajo Nation President Jonathan Nez, head of the largest American Indian reservation, said "it's only right that they support each other, just as their ancestors did."
"Navajo culture and tradition dictate respect for our relatives who have come before us," he said. "As Native people, we are connected to the land, and it is important to preserve the dwellings and the belongings of the ancient ones."
Instead of having to orchestrate protests four times a year, the tribes want the U.S. Bureau of Land Management to provide specific written confirmation that would preventing drilling.
Pueblo council Chairman E. Paul Torres said that the efforts to drill are financially driven, but, "On our side, it has nothing to do with money. It has to do with where we come from. These sites, to us, are living sites because the spirits are still there."
Phoebe Suina, who is Cochiti and San Felipe, said it is their duty to protect the ancient land, added, "We're put in that role as living beings of our ancestors. We have this time, this life, what are we going to do with it? At least we are trying."
U.S. Sen. Martin Heinrich of New Mexico said that legislation will be reintroduced soon in Congress to safeguard the land. He stated, "Let's not leave Chaco to the whims of one administration or another. We have a sense that this place is incredibly important and deserves protection."
New Mexico State Land Commissioner Stephanie Garcia Richard explained that an executive order from her office is expected in April that would make state land around Chaco off limits to drilling.
Accessible only by dirt roads, Chaco takes effort to reach, and supporters say they want to protect the sense of remoteness that comes with making the journey, along with the ancient features that remain.
Acoma Pueblo Gov. Brian Vallo sees Chaco was sacred land to be protected, stating, "To me, it was the center of where the intelligence of our ancestors evolved. It was the place where we observed solar and lunar cycles — all of that was tested at Chaco."
Ernie Atencio of the National Parks Conservation Association said previously, referring to the Trump Administration, "This administration is…playing a dangerous game of chicken with local communities and tribes…[reinforcing] the need for permanent protection of these lands."
Sources:
Tribes urge US to ban drilling around sacred New Mexico site