Like it or not, gambling is here to stay. Whether the casinos are land-based or online, however, is still an issue in the U.S.
---
Competition within the gambling industry has always been fierce. You only have to look as far as Las Vegas to see the measures casinos will go to gain customers. Ever since the first megastructure opened its doors, each new building has sought to outdo the rest in terms of capacity, flamboyance, and showmanship, hoping that that will be enough to draw in the crowds. 
It's a microcosm of what's happening on a global scale today. Gambling is now a $525 billion industry – one of the greatest economic success stories of modern times. It goes well beyond Vegas, with gambling meccas like Macau and a growing online casino community all wanting a slice of the pie.
Let's take a look at the state of play in the U.S., where times are a-changing for players and gambling operators alike.
Recent legal changes in U.S. gambling
Despite its global reputation as a gambling heaven, it's actually relatively tricky to have a flutter in the U.S. without restriction. For example, gambling at land-based casinos is largely confined to independent casinos on Native American reservations – at least outside of the hotspots of Las Vegas and Atlantic City.
However, the modern era has seen huge advances in digital technology. Online casinos started springing up a couple of decades ago – but are only now in a position to be seriously posing a threat to land-based establishments. The standard of gaming has become increasingly engaging and immersive, allowing players to play their favorite casino games anytime, anywhere, using any device.
Sports betting, gambling arcade machines, and online casinos have been hitting the headlines in the U.S. ever since the Supreme Court repealed the PASPA ruling – effectively legalizing online sports betting. This led to various states passing laws to legalize sports betting, and exciting rumbling in the online casino community, which saw this as its time to step forward and expand into the biggest gambling market in the world. 
However, the Supreme Court ruling did not mean gambling and sports betting is a free and open market. There are still many things that need to happen if the U.S. is ever going to get to that point. It leaves players understandably confused about what the state of play actually is.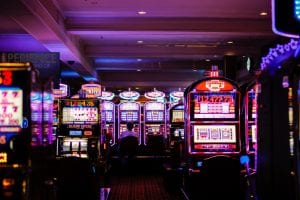 The benefits of legalizing online gambling
Some states, like New Jersey, are pro-legalization of online gambling, making the claim that the added revenue that would come from taxing the remote sector would be hugely beneficial. A free market would open up competition, giving consumers a better deal, and providing the Treasury with a significant amount of tax revenue to invest in vital public services like transport, hospitals and schools. 
While the legality of online gambling varies from state to state, the Internet is faced with a serious quandary – at present, 70% of online casinos based outside of the U.S. do not accept registration by U.S. citizens – even those living in states where remote gambling is legal. Proving residency is difficult, but a requirement for any site that wishes to keep its license. 
This means that, for successful global online casino brands, the pay-off isn't there yet. As it stands, U.S. gamblers are missing out on playing at one of the biggest worldwide remote casinos, with a variety of classic games including poker, roulette blackjack – plus hundreds of different slot machines themed around every niche, from music to movies and more. Online casinos also provide a wealth of guides to everything from how to budget in the most effective way, to the strategies you need to win big. 
For example, players wanting to be successful on the craps table might take note of the best craps strategy guide going. Authored by gambling expert John Grochowski, this guide covers the basics of how to play, through to popular strategies and sure-fire tips. 
There are U.S.-legal online casinos out there, but there aren't necessarily easy to find – or, frankly, worth the search. For the U.S. to show worthwhile taxable returns from its online gambling venture, they need to make the regulations attractive for the already established brands to open their doors to American players. Only then are U.S. gamblers likely to see some progress.
Land-based casinos are fighting back – and winning
Meanwhile, new land-based casinos are opening their doors every month. More than 40 new gambling establishments started trading last year, with the East Coast debuting four in an attempt to reinvigorate the gambling industry in and around New Jersey's famous Atlantic City. 
After a small dip in revenues in the mid-2010s, there's been a resurgence of traffic across the casino floor. And this resurgence has been used to campaign against online gambling by those who are worried that their profits will start to drop again.
The biggest spokesperson against the legalization of online gambling on a federal level is Sheldon Adelson. Owner of a number of casinos worldwide, including The Palazzo in Las Vegas, Nevada and The Sands Casino Resort in Bethlehem, Pennsylvania, the billionaire philanthropist has been at the forefront of a long-running campaign to keep all American gambling offline. 
He claims to be concerned that anyone will be able to access online casinos and fears for those with gambling addictions and the underage, feeling that land-based casinos make a safer environment for gamblers. And at the beginning of this year, his campaign won a major victory when they got the Department of Justice to overturn its momentous decision to allow online sports betting.
Law firms profiting from a legal quandary
The American gambling marketplace has now become a battleground fought by legal teams armed with contracts, prior rulings and obscure laws. Legal teams represent casinos, both land-based and online, on a regular basis, but their daily remit is usually taken up with less groundbreaking tasks. 
Given the fluidity of the gambling laws in the U.S. at the moment, in-house lawyers are necessary to navigate the changing waters and make sure that their clients are always sailing on the right side of the laws. Where they are affected by changes, they are responsible for redrafting terms and conditions and re-negotiating license agreements. 
The marketplace continues to be one of mergers and partnerships, with many larger global brands swallowing up smaller competition in a bid for increased market share. When the U.S. changed the laws on sports betting, it was a team of corporate lawyers who managed to secure a partnership between a leading Daily Fantasy Sports company and a U.K. agent – a combination of expertise that would instantly see them become a leading force in the online sector. Now that Adelson's legal team has had the ruling overturned, it will be lawyers who work out where the business goes now.
Where next for U.S. gambling?
Every time the U.S. Government has tried to make a ruling on gambling, it is received by a divided audience. State laws range from the strict – no gambling of any kind is permitted in either Hawaii or Utah – to incredibly liberal – there are currently six states, including Nevada and New Jersey, were all forms of gambling, online or land-based, are legal, and all the different variations in between. 
Whichever way they come down in the online gambling debate, they are going to upset and offend millions of U.S. citizens. A large number of states oppose gambling for moral and religious reasons, which is perhaps why it has taken so long for the debate on online gambling to be brought to the table.
Leaving it as a state issue may be the best way forward, in which case the federal government needs to back off completely. But with influencers like Adelson – whose companies contributed $90 million to President Trump's campaign – peddling their own agenda, it doesn't seem like that is going to happen anytime soon either. America is stuck in gridlock, unable to fully reap the benefits of properly legalized gambling, thus unable to demonstrate that it is a system that could work.