Former Harrison County, TX Sheriff's Deputy Charles "Chase" Dotson is being sued by a man who accused him of official oppression in November. Filed by Charles Edwards Collins, the suit alleges that Dotson brutally beat the plaintiff while he was handcuffed and strapped into a wheelchair.
---
A Texas man who filed an official oppression complaint against a Harrison County Sheriff's deputy is turning the matter into a lawsuit.
The Marshall News Messenger reports that the alleged victim, Charles Edward Collins, filed the suit on Monday. Naming Deputy Charles "Chase" Dotson as a defendant, the suit is seeking monetary damages for pain and suffering.
Collins' suit is in response to an alleged incident which took place on November 22, 2018. Somebody, not named by the Messenger¸ called law enforcement to Collins' residence.
"On or about November 22, 2018, Charles Collins was at his residence," the suit says. "Mr. Collins had become irritated and broke a rear sliding door and some small belongings in the residence."
Not long after vandalizing his own home, Collins went to sleep.
When his girlfriend's daughter came home, she saw the damage and called police.
"Unsure of what had occurred, she called law enforcement for assistance," recounts court documents. "She then made contact with her mother, Mr. Collins' girlfriend, who told her that law enforcement assistance was not necessary."
Nevertheless, a call had been made and several deputies arrived to Collins' home. The lawsuit, writes the Messenger, goes on to say that deputies initiated an interview. While Collins said he'd stay at home and take care of the mess in the morning, his girlfriend said she'd leave for the evening and come back the next morning.
"The deputies stayed for well over an hour," says the suit. "At no point in time has there ever been any allegation of any type of domestic abuse between Mr. Collins and his girlfriend."
Regardless, Dotson allegedly told Collins and his girlfriend that he'd arrest Collins so he could "sleep it off." Dotson informed Collins' girlfriend that she could pay a small fine and have him bonded out within a day.
"Mr. Collins' girlfriend pressed one of the other deputies as to what the charges were and he was unable to answer her," claims the suit. "Rather, he stated he would have to go ask Deputy Dotson."
Without providing adequate explanation, Dotson purportedly handcuffed Collins and drove him to the county jail. There, at the Harrison County Jail annex, Collins claims he was instructed to sit in a wheelchair.
After complying with the deputies' request, Collins claims to have been strapped into the wheelchair.
"At this point, Deputy Dotson began to repeatedly and violently strike Mr. Collins about the face and upper body," says the suit. "This was done without any threat to the safety or welfare of any of the attending law enforcement personnel."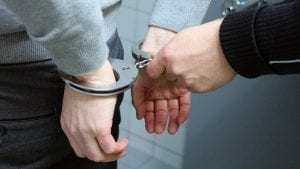 "Blood immediately began to pour down Mr. Collins' face," says the lawsuit, which repeats the claim that Collins was completely immobilized, handcuffed and strapped into a wheelchair.
Collins, who takes blood thinners, was so afraid that he might die he repeatedly requested to be transferred to a local jail.
Following Dotson's advice, Collins' girlfriend bonded him out of jail the next day. Collins claims that, when he received his civilian clothes back, they'd been washed.
"When asked why his clothes had been washed, the jail sergeant admitted to washing them due to the large amount of blood that had soiled from Mr. Collins' injuries," states the suit. "The sergeant went on to make it clear that Mr. Collins' injuries had not occurred at the downtown facility, but at the annex where he was not in charge of jail operations and supervisions."
Dotson resigned within two weeks.
An internal investigation made mention of an 'altercation' between a Harrison County Jail inmate and a deputy. The case, says the Marshall News Messenger, was referred to the District Attorney's Office and Texas Rangers for investigation.
Collins is asking for actual and compensatory damages, mental anguish damages and punitive damages. Along with requests for recompense, Collins is hoping to obtain remuneration for any legal fees incurred in a suit against Dotson.
Sources
Lawsuit filed against former Harrison County deputy accused of official oppression