California's largest utility company has filed for bankruptcy. Accused of negligence and starting a series of wildfires, Pacific Gas & Electric is seeking a way out of damages that could total in the tens of billions.
---
Accused of culpability in Northern California's wine country wildfires, Pacific Gas & Electric has filed for bankruptcy amidst numerous lawsuits.
While the 2017 fire's source was tracked back to a private residence in January, attorneys claim official reports are chock-full of discrepancies. According to National Public Radio, California continues to investigate what role PG&E may have played in the blazes.
All in all, the fires killed at least 87 people and displaced thousands more.
PG&E says it had no choice but to file for Chapter 11 bankruptcy. The slew of lawsuits and potential liabilities could have cost the company close to $30 billion. In the meantime, ratings agencies have reduced the utility's stock to "junk" status.
"We are fully committed to enhancing our wildfire safety efforts, as well as helping restoration and rebuilding efforts across the communities impacted by the devastating Northern California wildfires," PG&E interim CEO John Simon said in a statement. "To be clear, we have heard the calls for change and we are determined to take action throughout this process to build the energy system our customers want and deserve."
U.C.-Berkeley law professor Ken Ayotte told NPR that Chapter 11 "is really the best way to deal comprehensively with all the liabilities" Pacific Gas has.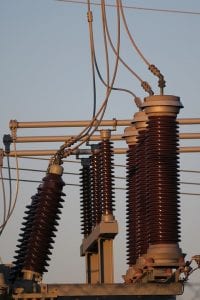 PG&E is California's largest utility company. NPR suggests its bankruptcy will pose an early challenge for recently-elected Gov. Gavin Newsom, who said the state will continue fighting for wildfire victims.
Meanwhile, NPR notes that a recent report absolving PG&E of blame for starting the fire won't do much to shore up its legal woes. The review, filed by firefighting officials, isn't a final verdict and won't stop attorneys from pressing forward with litigation.
And regardless of whether Pacific Gas played a role in the wine country wildfires, it's been found culpable in many others.
Ayotte says the only way PG&E can reassure Wall Street is by ending its damages through bankruptcy.
"It's really the only way for putting some kind of cap on the liabilities that come from these fires," he said. "It's going to continue to hang over their heads until they address it. So I think Chapter 11 makes a lot of sense here."
But attorney Mike Danko questioned how a company claiming a commitment to victims and its future obligations can center itself on for-profit economics.
"When PG&E says, 'Oh, safety is our most important priority.' No it's not. Their only priority is profits and more profits," Danko said.
"Why do we even have a for-profit company running a utility?" he continued. "You have to ask whether that model even works."
The New York Times notes that bankruptcy means the company will probably pay considerably less than $30 billion.
State-level politicians are purportedly considering a new system, funded by utility and related industry, which would self-insure fire risks from routine operations. Such a fund, says the Times, could reassure investors and residents that bankruptcy isn't the only way out.
Sources
California Power Provider PG&E Files For Bankruptcy In Wake Of Fire Lawsuits