Andrew Lippi bought an $8-million-dollar island. Then he shoplifted from Kmart.
---
To say Andrew Lippi, 59, of is wealthy would be an understatement.  The Florida man recently purchased an $8-million-dollar private island, an investment most of the population can only dream of making.  And yet, it's an investment that may have left him in a tough financial position.  After all, only a short time after Thompson Island was entirely his, Lippi was arrested for shoplifting $300 in merchandise from Kmart.
Lippi has been accused stealing household goods from a Kmart in Key West, where police said he purchased various items between March 30 and April 4, replaced these items with inexpensive random one and returned the boxes filled with junk for full refunds.  He apparently pocketed LED light bulbs and a $55 Hamilton Beach coffee maker, which he allegedly "replaced with a much older coffee maker" before requesting a refund.  He also bought a $150 Keurig coffee machine, returned the box sealed tightly with a basketball inside, and a bed skirt, which he returned with a pillow case in the packaging.
Perhaps he just really needed to furnish his new gated island estate?
The island purchased by Lippi was formerly a private residence owned by the philanthropist and developer Edward B. Knight.  The deal closed March 28 with the sale funding the Edward B. and Joan Knight Foundation.  According to real-estate website Private Islands, it once listed for $10.45 million and is one of the few private islands in the area with direct access to the main island of Key West.  Lippi said of the estate, "I think we'll be living in it for awhile."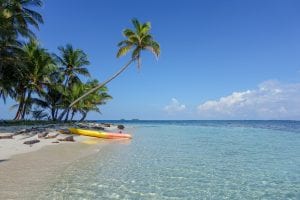 Lippi also owns a twelve-bedroom resort compound in Key West where MTV filmed a season of "The Real World" back in 2006.  That property currently rents for about $1,800 a night on Airbnb.  He has denied stealing each of the items from Kmart, according to a police report, claiming he doesn't know how the they were swapped.
"Lippi stated he did not change out any items prior to returning them," the arresting officer wrote in the report. "I asked Lippi about the Keurig coffee machine being replaced by a basketball, and he stated the clerk should have realized there was no coffee machine by the weight of the box.  I asked Lippi about the light bulbs, and he stated he returned the light bulbs because he paid too much money for them and did not know how they were switched."
Apparently, when contacted about the situation, the wealthy businessman replied it "has to do with a commercial dispute."  Lippi added, "It's very complicated and I'd rather not get into it.  I will say this, that the way it was handled by Key West police and the Monroe County Sheriff's Department was wonderful.  Some of the finest people I've ever dealt with who were kind throughout the whole process."
He was arrested on grand theft charges and released the following day.  Jail records show Lippi did not have to post a bond to be released.  He is scheduled to appear in court for an arraignment on April 18.
Sources:
Man accused of stealing from Kmart days after buying $8 million private island
Owner of million-dollar homes accused of stealing from Key West Kmart