An attorney for the plaintiffs say San Jose's police department needs court oversight.
---
California protesters have filed a federal civil rights lawsuit against the City of San Jose.
The Mercury News reports that the lawsuit was filed on behalf of seven people who were injured by tear gas and crowd-control projectiles during protests in May and June. The complaint alleges that San Jose police were not properly trained to use non-lethal weapons, and were often overly aggressive in their response to gen peaceful protests.
The suit seeks monetary damages as well as departmental reforms.
"Court oversight is necessary at this point," said San Jose-based civil rights attorney Sarah Marinho, who's representing the plaintiffs. "It's great they say they want to revise their policy and proceed differently. But they didn't follow their existing policies in many ways."
Marinho also told ABC7's "I-Team" that protesters' peaceful actions and speech is constitutionally protected.
"Protesters have a First Amendment right under the U.S. Constitution to be out peacefully assembling and protesting," Marinho said.
One of the plaintiffs, recounts the Mercury News, is Derrick Sanderlin.
Sanderlin, a community activist and former police trainer, was hit in the groin by a rubber bullet while trying to de-escalate a confrontation between protesters and law enforcement.
Sanderlin's injury, states the lawsuit, could impact his ability to have children.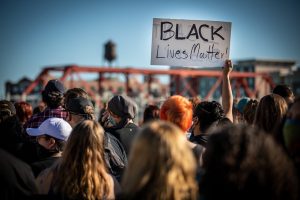 The officer responsible for shooting Sanderlin—Jared Yuen—had earlier attracted scrutiny, especially on social media platforms. Numerous video clips emerged and went viral, all showing Yuen's apparent enthusiasm to physically engage protesters. One Reddit user likened Yuen's combative stance and bouncing movements as akin to a "video game" avatar on a "character selection screen."
In another video clap, Yuen was captured yelling profanities at and threatening a woman.
Another plaintiff, Shante Thomas, was watching demonstrations from the third floor of her apartment. Numerous police projectiles were fired into her unit, including a tear gas canister.
Thomas, states the lawsuit, was hit in the chest by at least one projectile, and was also injured by broken glass. She has since maintained that she was targeted for criticizing police and recording video of on-duty officers.
"They was bullying them, they was like, they could be untouchable," Thomas told ABC7, explaining how officers appeared to be aggressively targeting peaceful protesters. "They could do what they want."
Thomas captured video of her windows breaking as police fired over a dozen different projectiles into her apartment.
Police later justified their action by claiming that Thomas, or someone in her immediate vicinity, was throwing beer bottles at officers.
However, Thomas explicitly accused Sgt. Jonathon Byers of investing the bottle attack story to justify the use of projectiles and chemical suppressants against her. Byers, adds the lawsuit, has a "history of excessive force claims against him."
Marinho alleges that, in many cases, law enforcement lacked certification to use the non-lethal weapons they brandished and fired at protests. Yuen—responsible for Sanderlin's groin injury—had not received non-lethal weapons training in over five years, even though the weapon he was using requires certification every two years.
"It's really concerning that officers are out there equipped with deadly weapons and they had received no training," she said. "It's unacceptable."
San Jose Police Chief Eddie Garcia told ABC7 that he has moved to take protesters' complaints under consideration. Since the protests earlier this summer, Garcia says that he has banned the use of rubber bullets against protesters.
"You will not hear from me today an assertion that we're perfect, particularly in the face of chaos," Garcia said. "I'm sure we've made mistakes and we will hold ourselves accountable for those mistakes."
Marinho, though, appeared skeptical of law enforcement's ability to police its own and reiterated the need for court-ordered reform.
"I don't want their reassurances that they're changing," she said. "I want a court to order them to revise accordingly and following it.
"We're way beyond verbal reassurances."
Sources
George Floyd protests: San Jose Police Dept. hit with federal civil rights lawsuit over injuries to protesters
San Jose: Lawsuit from George Floyd protest violence takes aim at police training
San Jose Police records: Mayor tries to force release as Bay Area News Group prepares to file lawsuit