As part of Philadelphia Energy Solutions (PES) Inc.'s bankruptcy proceedings, the company is asking for a minimum of $2.5 million in bonus payments for its top executives.  The plan is for the oil refinery to either reorganize its existing structure or sell the company, according to U.S. bankruptcy court records.  This would allow bonuses for executives who have already been paid nearly $4.5 million in awards after a fire earlier this year forced a shutdown.  PES originally laid off hundreds of workers without severance pay or benefits.
"It's repulsive that they did that," said Ryan O'Callaghan, a spokesperson for Steelworkers Local 10-1, which represents refinery workers. "While they're telling everybody else they're poor, bankrupt, had nothing for severance and canceled the medical benefits plan…they stuffed their own pockets."
"While the refinery was still on fire, they're not thinking about starting the refinery right then, they're already thinking about shutting it down, that's what it's telling me," said O'Callaghan, who was among the more than 500 union employees who were out a job.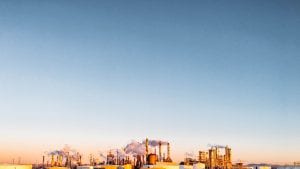 Experts have said the current bonuses being sought aren't that uncommon.  "Key employee retention bonuses are not that uncommon in bankruptcy, but it is uncommon to pay them before bankruptcy knowing that you're going to go into bankruptcy," said Jonathan Lipson, a bankruptcy expert at Temple University's Beasley School of Law.
If PES confirms a reorganization within fifteen months of July's Chapter 11 bankruptcy filing, according to documents with the U.S. Bankruptcy Court for the District of Delaware, the additional bonuses will be paid.  The $2.5 million could also be paid if PES nets a minimum of $300 million from its insurance company or through a sale.  The refinery is asking for up to $1.25 billion in insurance proceeds.
Records show "Chief Executive Officer Mark Smith would receive 29% of any incentive bonuses, PES board of directors Chairman Mark Cox would get 25%, Chief Financial Officer Rachel Celiberti 18% and attorney Anthony Lagreca 14%. Three other employees would also receive lesser amounts." Bonus payments to the executives would increase by 2.5% on every dollar above the $300 million in net proceeds minus expenses.
United Steelworkers International, which represents PES workers, plans to object to the bonus plan.
"The thought that they need millions of dollars of new bonuses to work diligently towards a sale of the refinery is offensive," the union President Thomas Conway said.
At this time, PES is saying it's "too early in the strategic process" for releasing the details of its plan and the future direction of PES and the refinery complex.  It is still negotiating the potential pay out terms.  Yet, PES is justifying the executive-only bonuses by indicating the team has to spend additional hours working out the plan.  "The ultimate success of the debtors' Chapter 11 cases and maximization of value for the debtors' constituents is heavily reliant on the debtors' senior management team," the company said in its filing. "The executives' responsibilities are unique and far more challenging than that of typical management responsibilities."
Sources:
Bankrupt Philly refinery seeks millions more for executive bonuses ahead of potential sale
After fire, Philadelphia refinery paid executives $4,591,500 in bonuses while hundreds were laid off
Bankrupt Philadelphia refiner seeks at least $2.5 million in executive bonuses: court filings