Researchers are hopeful that alternatives to opioids will help chronic pain patients.
---
Researchers are coming up with new and innovative ways to manage pain that don't involve taking addictive prescription pills.  These include everything from striving for better diagnosis and assessment of patients who may be experiencing chronic discomfort, recommending alternative medications, and using state-of-the-art medical devices and technology.  The purpose of focusing on pain medication alternatives is to properly treat pain before it becomes a debilitating condition without the risk of addiction.
According to the National Institute on Drug Abuse, "nearly 30% of patients who are prescribed opioids misuse them and up to 12% develop an addiction."  And biotechnology industry executive Alan Dunton said one of the biggest challenges the industry faces is incomplete assessment of pain.  "Pain can be highly subjective," he explained, and this is where utilizing the latest assessment tools and technology can come in handy.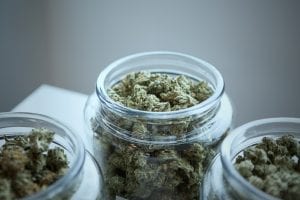 Quell by NeuroMetrix, for example, is a 100% drug-free system that utilizes prescription strength nerve stimulation to block chronic pain.  Another device, BreatheVR by Neon, combines the immersive experience of VR with breathing exercises to provide pain relief.  The SPRINT Peripheral Nerve Stimulation (PNS) System from SPR Therapeutics was approved by the Federal Drug Administration (FDA) last year and uses single, thread-like wire that is implanted on the patient through a minimally invasive procedure.
There is also research to suggest that cannabis-based alternatives could be the answer.  According to researchers at the University of Guelph in Canada, "the anti-inflammatory properties of the Cannabis sativa plant are 30 times stronger than Aspirin."  Studies have found that CBD oil has substantial benefits for patients with MS and epilepsy.
"More and more people are curious about trying CBD oil and they are pleasantly surprised with the results.  Apart from pain relief, we're also getting amazing feedback from clients on how CBD oil has helped their mental health, especially anxiety," said Justin Hamilton, co-founder of Royal CBD.  The NationalAcademies of Sciences, Medicine, and Engineering concluded that patients treated with cannabis or cannabinoids for chronic pain were more likely to experience a significant reduction in symptoms.
Pain management does not come with a one-size-fits-all solution.  Physicians must tailor treatment plans specifically to each patient that comes through the door.  Part of this may include genetic testing that is currently underway to determine whether some patients are more susceptible to addiction.  A $1.6 million study by the University of Cincinnati and Ohio State University, which will officially launch in January 2020, will attempt to take a deeper dive into the topic and determine if one's genetic makeup can increase this risk.
Researchers plan to ask for the help of up to 1,500 emergency room patients, some diagnosed with opioid use disorder (OUD) and those who have never or rarely used opioids.  They will swab their cheeks and send the genetic information to Genemarkers for testing.  In order to maintain anonymity, the researchers will ensure the patients' DNA profiles will not be linked to their names or made available to law enforcement.  Ohio Attorney General Dave Yost's office is planning to oversee the study and hopes that the testing will help to inform opioid addiction prevention.
All of these options may be used in some cases, or one or two may be appropriate.  Researchers are continually coming up with new ways to make sure patients aren't left without proper and much-needed treatment.
Sources:
The future of pain management beyond painkillers: new lines of research to keep an eye on
What if genetic test could alert you to future addiction to opioids?