Vitamin E and cannabis could be a deadly vaping combination.
---
The New York State Department of Health is investigating cases of severe respiratory problems from vaping and believes it has found the cause – an oil found in vitamin E.  The Department stated it has received more than three dozen reports of lung illness among patients ranging in age from 15 to 46 who were using at least one cannabis-containing vape product.  This age group is least susceptible to autoimmune diseases, which generally affect children and the elderly at higher rates than the rest of the population.  It issued a statement regarding these findings, saying, "laboratory test results showed very high levels of vitamin E acetate in nearly all cannabis-containing samples analyzed by the Wadsworth Center as part of this investigation.  At least one vitamin E acetate-containing vape product has been linked to each patient who submitted a product for testing."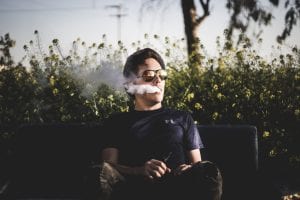 Health officials said, "vitamin E acetate is now a key focus of their investigation of potential causes of vaping-associated pulmonary illnesses."  Vitamin E acetate is widely available as a nutritional supplement and is not known to cause pulmonary harm when taken in this form or applied directly to the skin.  It is often used to improve the appearance of hair, skin, and nails.  New York Officials are continuing to investigate its health effects when inhaled and said that it "could be the culprit" because oil-based inhalants might be dangerous.
But the U.S. Food and Drug Administration (FDA) has issued a statement saying is it "analyzing samples submitted by the states for the presence of a broad range of chemicals, including nicotine, THC, and other cannabinoids along with cutting agents/diluents and other additives, pesticides, opioids, poisons, and toxins…No one substance, including vitamin E acetate, has been identified in all of the samples tested.  Importantly, identifying any compounds that are present in the samples will be one piece of the puzzle but will not necessarily answer questions about causality.  The results from the FDA's laboratory analysis will be shared with the respective states to aid in their investigations and will help further inform the federal response."
Gregory Conley, president of the American Vaping Association, said THC may be playing a key role in these illnesses.  "Several health departments are now linking street vapes containing THC or synthetic drugs to these illnesses and we remain confident that this is the case across the country," Conley said.
Centers for Disease Control and Prevention (CDC) recently reported that sixteen states have now reported more than 150 cases of serious, vaping-related respiratory illnesses in the past two months and many who are suffering from these illnesses are teens or young adults.  At the time, the agency issued a statement indicating that "all of the cases occurred in people who acknowledged vaping either nicotine or tetrahydrocannabinol, known as THC, the high-inducing chemical in marijuana."
Most of those who've suffered from respiratory problems were admitted to hospitals after experiencing difficulty breathing.  The CDC indicated that some patients also complained of other symptoms, including vomiting and fatigue.  "It does not appear at this time that a contagious infectious disease is behind the issue," the agency reported, "nor is one device or product responsible."
Sources:
CDC reports 153 possible cases of vaping-related illnesses, many involving THC