While the ban's gained traction among San Francisco policy-makers, public health experts worry it might hurt conventional smokers trying to quit.
---
San Francisco set a new milestone Tuesday, becoming the first city in the United States to ban the sale of e-cigarettes.
The ordinance, passed two days back, seeks to curb teen nicotine abuse. As the New York Times reports, e-cigarettes—sometimes called vapes—are oft-posited as an immediate threat to public health.
Marketed as an inexpensive, effective way for adults to quit tobacco cigarettes, vape manufacturers like Juul have come under fire for making their products appealing or otherwise accessible to underage users.
"We've worked for decades to decrease tobacco usage and try to end nicotine addiction," said Shamann Walton, who's on San Fran's board of supervisors. Shamann also co-authored the bill to ban e-cigarette sales in the city. "Now you have this device loaded with nicotine and chemicals that's drawing people to addiction.
"We need to keep it out of the hands of young people," Walton said.
For politicians and legislators alike, that's the focus—keeping vapes and nicotine away from kids, no matter the cost.
"There is so much we don't know about the health impacts of these products, but we do know that e-cigarette companies are targeting out kids in their advertising and getting them hooked on addictive nicotine products," said San Francisco Mayor London Breed.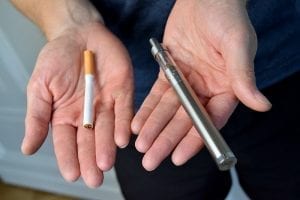 While the city's decision has been praised by anti-tobacco advocates—the Times lists counts the American Heart Association among the law's supporters—critics say a blanket ban on vapes may not be an effective solution.
E-cigarettes, for instance, contain at least as much nicotine as traditional, tobacco-based cigarettes. But they're largely free of the toxins, additives and contaminants which link smoking with premature death and a wide range of heart ailments and cancers.
"On the face of it, it's ludicrous that we would ban e-cigarettes, but permit the sale of tobacco and cannabis," said University of California-San Francisco health professor Dr. Steven A. Schroeder. "It's really smart politics but dubious public health."
Schroeder, says the New York Times, believes the ban will probably appease San Francisco parents who worry their children might "succumb to vaping."
However, Schroeder notes that people who smoke regular cigarettes tend to come from less financially affluent backgrounds and households. Taking away vapes and e-cigarettes could eliminate a comparably safe alternative to tobacco.
Asked who might "benefit" from continued sales of e-cigarettes, Schroeder said, "They are the downtrodden. The homeless, the H.I.V. positive, substance abusers, prisoners, who have no constituency, politically."
Schroeder's opinion is backed by other researchers, including Ken Warner, a professor emeritus at the University of Michigan.
"We have this very big increase in quitting in the U.S.," Professor Warner said. "We need to keep our eye on the prize—which is the reduction in cigarette smoking. That's what's killing people."
Nicotine expert and medical professor Neal L. Benowitz was a bit more straightforward, saying San Francisco's decision to kick out Juul and its contemporaries is "terrible."
"It's well intentioned, but the people who voted on it really didn't hear the full story," he said.
According to Professor Benowitz, the Juul fad—at least among youth—may not be all its cracked up to be. Many young users vape only on occasion, using e-cigarettes, on average, fewer than 10 days each month.
"That could just be kids trying something out to look cool, a fad, using it at parties," Benowitz said. "It may have no long-term health consequences."
The ban will come into effect 30 days after Breed signs the bill.
Sources
San Francisco Bans Sale of Juul and Other E-Cigarettes
San Francisco Becomes First U.S. City to Pass an E-Cigarette Ban
San Francisco, home of e-cig giant Juul, just banned e-cigs
Both images courtesy of Vaping360.com.