Female workers win settlement over sexual harassment lawsuit filed against Atlantic Capes and BJ's Service Co., a New Bedford staffing firm. 
---
Margarita Fuentes Herrera claimed was sexually harassed right after she started a position at packing shellfish at Atlantic Capes Fisheries in Fall River, when a supervisor approached her from behind, put his hands on her body.  She said through a translator, "If you want to work here, you will have to let me do what I want."  Fuentes Herrera and several co-workers decided that wasn't acceptable and filed a lawsuit over the harassment.  Now, five years after the issue began, a federal judge has approved a $675,000 settlement against Atlantic Capes and BJ's Service Co., a New Bedford staffing firm.
Atlantic Capes and BJ's said in the company has commenced efforts to improve working conditions.  But, under the terms of the settlement, they did not admit to wrongdoing.  Advocates for workplace rights called the approval a victory for the #MeToo movement.
"This is going to serve as a shining light for other women who are in similar situations..that they, too, can stand up and be supported," Adrian Ventura, executive director of Centro Comunitario de Trabajadores in New Bedford.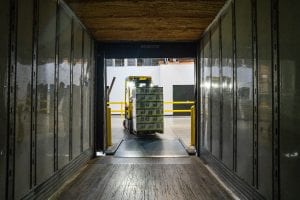 Centro Comunitario helped the workers seek legal assistance through Justice at Work, which brought their claims to the U.S. Equal Employment Opportunity Commission (EEOC).  This agency ultimately filed the federal lawsuit.  U.S. District Court Judge Patti B. Saris, nominated to her position by former Democratic President Bill Clinton, approved the settlement.  The case, which was originally scheduled to be settled in December, was put on hold during the federal government's 35-day partial shutdown.
Mirna Pacaja Batz said the same supervisor who allegedly harassed Fuentes Herrera — a man nicknamed "El Gato" (Spanish for "The Cat") also rubbed his crotch against her buttocks.  When this was reported to human resources, managers did nothing.  Paula de Leon Carrillo said "El Gato" put her hand on his crotch against her will.  When she was expecting her daughter, he allegedly told her, "I like pregnant women, because the pregnant woman is juicier."
Fuentes Herrera, Pacaja Batz, and de Leon Carrillo will each receive $130,000, while the fourth plaintiff will get $75,000.  Any other victims of alleged harassment who come forward will be compensated from a $210,000 fund set aside in the settlement.
Atlantic Capes said the issues at the Fall River packing plant predate the New Jersey-based company's ownership of the facility.  "When ACF acquired the Fall River facility in 2013, it immediately put in place equal opportunity, anti-discrimination, and anti-sexual harassment policies and practices," it said.
Atlantic Capes said that when it learned of the allegations, "the company immediately invited workers to come forward and share specific concerns and hired counsel to assist in investigating these complaints. The workers alleged to have behaved inappropriately are no longer employed by either ACF or BJ's."
Glen Ilacqua, general manager for BJ's, said the company "is happy to have brought this matter amicably to a close and looks forward to implementing changes for the future so that it can continue to be a safe and healthy environment for its employees and temporary workers."  He added, "While we dispute some of the allegations in the case, we choose to focus on the upside opportunities that this settlement provides our company.  As a result of this case, BJ's has made significant improvements, which include investments in our internal staff training, the adoption of a leading electronic case management software platform and retaining an outside agency to do our investigations and documentation for any future incidents."
Sources:
$675,000 settlement in sexual harassment case against Fall River factory, New Bedford staffing firm 
Atlantic Capes Fisheries settles sexual harassment suit for USD 675,000