Security footage from a South Carolina church is stoking fears that a young volunteer may have molested more than a dozen children on its premises.
The footage, detailed by the Associated Press, purportedly shows 28-year old Jacop Robert Lee Hazlett 'repeatedly abusing young children in a bathroom.' The attacks were repeated, sustained and took place within the past 90 days.
Hazlett was jailed on a preliminary charge of sexual assault and is held on suspicion of molesting a 3-year old boy last Sunday.
A lawsuit filed Wednesday claims that Hazlett has attacked 'at least' 13 other church as well.
The Associated Press says that church staff didn't review surveillance tapes until a parent voiced concerns. Video showed Hazlett—filmed through an open bathroom door at the NewSpring Church in North Charleston—performing oral sex on a toddler.
"There could be countless victims out there. We only know of 14 from the last 90 days," attorney Joshua Slavin said.
Police say it's possible that more charges may be filed.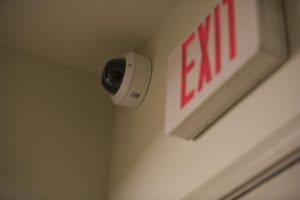 "We've made one charge so far, and the investigation is ongoing with more charges expected," North Charleston police spokesman Spencer Pryor said Friday.
According to the Associated Press and case investigators, there's no estimate of how many children could be involved. Hazlett began volunteering at NewSpring in March, but it's possible he may have volunteered at other churches before it.
"We're concerned that there may be victims in North Carolina as well," Slavin said. "The scope of this is pretty astounding to me."
Particularly worrying is NewSpring's adherence to a common policy: the routine overwriting of security tapes. The church only keeps 90 days' worth of video from its camera.
Hazlett volunteered at NewSpring and worked with children there for over a half-year.
At NewSpring, Hazlett supervised 3- and 4-year old children in a room called "the Tree House." His arrest affidavit states that security footage reviewed on Monday showed Hazlett abusing a boy in a nearby bathroom the day before.
Hazlett purportedly took pictures of the 3-year old victim's genitals, too.
Slavin, reports the AP, says his lawsuit intends to expose the church's lack of oversight. For instance, another volunteer is supposed to monitor the property's security feeds in real time.
However, nobody had any suspicions of Hazlett until a parent voiced concerns and specifically requested a video review. The tape shows him "keeping a lookout for approaching adults and looking toward the security camera."
"He was aware of the extraordinary risk he was taking had NewSpring Church simply been monitoring the video feed," the lawsuit claims.
Prior to his volunteer employment with NewSpring, Hazlett underwent and successfully passed a background check. The church 'acted swiftly on Monday' to address parents' suspicions of misconduct.
Sources
Lawsuit: Church worker in toddler sex assault hurt 13 others
NewSpring leaders 'gutted' as lawsuit suggests volunteer molested 14 children in 90 Days