Student challenges school district's requirement to get the chickenpox vaccination on religious grounds, loses, then contracts the virus.
---
Jerome Kunkel, a student at Our Lady of the Sacred Heart Assumption Academy in northern Kentucky, was banned from his school for refusing the chickenpox vacation.  He said his refusal was "due to religious beliefs."  Now the teen has come down with the pox himself.  Kunkel and his family said that even though refusing to get vaccinated may have led to his current condition, they have no regrets about their decision not to.
"These are deeply held religious beliefs, they're sincerely held beliefs," family attorney Christopher Wiest said. "From their perspective, they always recognized they were running the risk of getting it, and they were okay with it."
Some ultra-conservative Catholics oppose chickenpox vaccinations because it was developed in the 1960s from cell lines of two aborted fetuses, and they refuse to compromise their beliefs by partaking in getting immunized.  In January, the chickenpox virus broke out at Our Lady of the Sacred Heart School and Assumption Academy, the district's high school.  The institutions are affiliated with the Society of St. Pius X, a conservative branch of Roman Catholicism that rejects Vatican II reforms.  The outbreak prompted state health officials to order unvaccinated students to stay out of the school.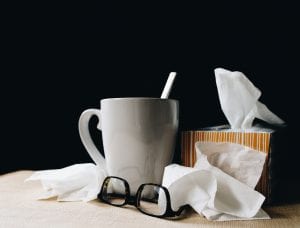 Kunkel subsequently challenged this in court but was unsuccessful.  "I'm definitely devastated by the judge's ruling.  It just doesn't seem logical to me," he said.
Contracting the pox means that one will be immune to the virus after they clear.  Thus, Kunkel hopes to be back in school after it subsides for the first time since March 15.  Once the banned student can show that all of his chickenpox lesions have scabbed over, he'll be allowed to return to school, according to Doug Hogan, spokesperson for Kentucky's Cabinet for Health and Family Services.
The teen said he's looking forward to his recovery.  "Things are somewhat normal except…for homework I got to catch up with," he said.
"The ban was stupid," Wiest said, and he insisted had state health officials not intervened, his client would have had the pox earlier this year and gotten it over with.  "He could have contracted this in March and been back to school by now."
But state health officials accused him of "downplaying the dangers of the chickenpox."
Laura Brinson, a spokesperson for the Northern Kentucky Health Department, said, "Encouraging the spread of an acute infection disease in a community demonstrates a callous disregard for the health and safety of friends, family, neighbors and unsuspecting members of the general public."  She added, "Control measures, such as restricted school attendance, participation in extracurricular activities, and instructing those who have symptoms to avoid contact with others, are designed to prevent unvaccinated people who have been exposed to the virus from infecting members of the general public while they are infectious."
"We found a neighbor that had it, and I went and made sure every one of them got it.  They were miserable for a few days and they all turned out fine," said Kentucky Governor Matt Bevin, who admitted he's exposed all nine of his children to chickenpox back in March.  However, he did urge parents to take the more responsible route and get their kids vaccinated.
Sources:
Kentucky teen who sued over school ban for refusing chickenpox vaccination now has chickenpox
Unvaccinated Northern Kentucky student in chickenpox case comes down with the illness