The federal official tasked with protecting student loan borrowers from predatory lenders left his post on Monday.
According to National Public Radio, former Consumer Financial Protection Bureau student loan ombudsmen Seth Frotman the Trump administration has "turned its back on young people and their financial futures."
Written as part of a 'scathing' resignation letter, the statement was addressed to the bureau's acting director, Mick Mulvaney.
Since President Trump inauguration, the White House has actively campaigned against the Consumer Financial Protection Bureau. Maligned as an over-jealous liberal attempt at regulation, the commander-in-chief has suggested the nation might be better off without the agency.
Along with the Department of Education, the CFPB has significantly eased up or erased pending investigations into predatory lenders. Mulvaney's lack of interest in the CFPB's interest drew the ire of Frotman, who claims the bureau is bending to the will of corporate interests.
"Unfortunately, under your leadership, the Bureau has abandoned the very consumers it is tasked by Congress with protecting," Frotman wrote. "Instead, you have used the Bureau to serve the wishes of the most powerful financial companies in America."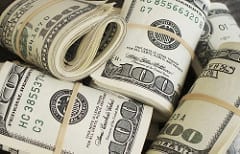 NPR says the letter raises 'serious questions' about the government's desire to oversee the $1.5 trillion student loan industry—and its willingness to protect borrowers.
Frotman claimed the Department of Education's move to stop sharing student loan information with the agency "unliterally shut the door to routine CFPB oversight of the largest student loan companies."
The former ombudsmen claims the administration's abandoned its enforcement obligations, allowing politics to take priority over protection. It hasn't been able to act independently under Mulvaney, claims Frotman, and has intentionally opened student loan borrowers to risks.
More than that, says Frotman, Mulvaney and other Trump appointees have actively resisted the attempts of 'career staffers' to communicate with consumers and other government departments.
"At every turn, your political appointees have silenced warnings by those of us tasked with standing up for servicemembers and students," he wrote.
Worryingly, Frotman suggests that Mulvaney and his cohorts have shielded large banks and "bad actors" from scrutiny. Last year, he wrote, 'new evidence came to light' showing that financial institutions were ripping off students with phony accounting fees.
But under Mulvaney, bureau leaders suppressed that information, making sure it never reached the public in the way it should have.
"American families need an independent Consumer Bureau to look out for them when lenders push products they know cannot be repaid, when banks and debt collectors conspire to abuse the courts and force American families out of their homes, and when student loan companies are allowed to drive millions of Americans to financial ruin with impunity," Frotman wrote.
Sources
The government's top student loan watchdog is quitting in protest
Student Loan Watchdog Quits, Says Trump Administration 'Turned Its Back' On Borrowers