While fewer teens are breathing in secondhand smoke, more are being exposed to e-cigarette vapor.
---
E-cigarettes could be posing an increasing danger to teens by way of second-hand chemical exposure. That's the conclusion of a medical survey which reached out to tens of thousands of American youth, most enrolled in middle and high school.
Published in JAMA Network Open—a monthly, open-access journal maintained by the American Medical Association—the report found that 1 in 4 American teens were exposed to second-hand e-cigarette aerosols in 2015. By 2018, that figure had risen to 1 in 3.
While the unique dangers of e-cigarettes aren't fully understood, researchers believe that public vaping can "pose health risks to bystanders."
"The vapor contains elevated levels of nicotine, particulate matter, glycerin propylene glycol, formaldehyde, polycyclic aromatic carbons and heavy metals," said Andy Tan, an assistant professor in social and behavioral sciences at the Dana Farber Cancer Institute and the Harvard T.H. Chan School of Public Health in Boston. "These substances are known to have health risks in vulnerable populations, including children and teens."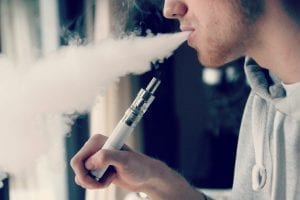 Tan, who spearheaded the survey, shared several examples from his research and observations. One recent report described a Florida teenager with asthma, who suffered an attack immediately after being exposed to second-hand e-cigarette vapor.
Survey participants, notes Reuters, were asked how often they breathed smoke from someone using combustible tobacco products, as well as how often they breathed vapor from somebody using e-cigarettes. Subjects were asked to consider any and all such occasions within the 30 days preceding the survey.
What Tan coincides with a lot of media coverage about vaping—most teens inhale less second-smoke than they used to, but spend progressively more time around e-cigarette users.
Tan hopes the JAMA publication and whatever noise it generates will help regulators and parents find ways to make e-cigarettes less accessible to young people. While manufacturers like Juul have begun implementing stricter age checks on online sales—along with restricting fruity flavors that could appeal to kids—there's little practical guidance on how to cut back on second-hand vapor exposure.
Part of the problem, Tan explains, is that e-cigarette vapor doesn't have the same noxious smell as cigarette smoke. Anyone walking down the street could pass through a cloud of e-cigarette toxins and not catch anything but a whiff of cucumber or mango.
Dr. Panagis Galiatsatos, director of the Tobacco Treatment Clinic at the John Hopkins School of Medicine, said Tan's study "reaffirms what a lot of us are concerned about."
"There is a possibility that e-cigarette "smoke" will turn out to be as bad as secondhand smoke from combustible cigarettes," Galiatsatos said.
"I have a patient who developed acute lung disease from another's vaping," he added. "Just as there are warnings about secondhand smoke from traditional cigarettes, we should also have a campaign for electronic versions."
Sources
CDC probes lung illnesses linked to e-cigarette use