Just the thought of this complicated process can make you want to give up. In those moments, remember that a scholarship can reduce or even avoid student debt, save you some money for rent, and generally afford the college experience. All in all, the trouble is worth it!
---
Earning a college degree is both hard and an expensive journey. One of the best ways to make this process less painful is getting a scholarship. The problem is that getting a scholarship is not an easy task.
There are so many things you need to focus on. Just the thought of this complicated process can make you want to give up. In those moments, remember that a scholarship can reduce or even avoid student debt, save you some money for rent, and generally afford the college experience. All in all, the trouble is worth it!
Now, all you need is a formula for a successful application. The following tips will guide you to your winning scholarship application.
Do your research in time
If you don't do this part right, everything else can simply fall through. 
Start the scholarship search process as soon as the idea comes to your mind. There is nothing to wait for.
The process usually takes time, so the sooner you start gathering the information the better. 
Focus on local scholarships
While national scholarships can be more tempting, the local ones are a safer choice.
National scholarships get more press so this may be your first choice. However, don't forget about the local scholarships. 
Instead of competing with thousands of students all over the nation, you will only have to compete with students in your area.
Turn to your college admissions office for more information about local scholarships. 
You can also search for state-specific scholarship yourself, by typing in the Google "scholarships + the name of the city/state."
Seek out for examples
Similar scholarship applications can help you get the gist of what you need to aim for. 
All you need to do is to search for the essay example with a similar topic. Use those essays as an inspiration. Don't copy them!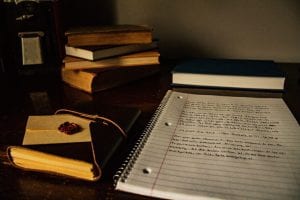 These previous successful applications will show you what's important. This guide will help you a lot once you get to writing your essay. 
Read the instructions carefully
Instructions can be tiring and boring, but reading them in detail is necessary for a successful application.
Don't rely on other people's words. If someone told you how you need to apply, that is not enough. Different scholarships can have different rules. And you need to know about all of them before you apply.
In case you find something confusing, find the contact email on the website and ask them directly.
If you feel exhausted by all the information, just remember that if you get that scholarship the only thing you'll have to worry about is how to decorate your new apartment. This will give you the strength to move forward.
Be realistic
Exaggerating your grades or accomplishments can only get you into unnecessary trouble.
While some unreal achievements can make you look good on paper that is not a true representation of yourself. Not to mention that you won't have the proof to back them up.
Apply for scholarships that match your skills. In this way, you'll have a better chance and won't be disappointed if you don't get it. 
Be honest about skills, memberships, and grades. In case you had some downfalls, speak truly about why that happened. 
Instead of lying about your accomplishments, try to emphasize your wish for improvement. 
Write a unique essay
The essay is one of the crucial components for getting the scholarship.
In the sea of generic essays, you need to make your essay original. The main goal is to stand out in the crowd. 
Don't think about what they would like to hear, but give your unique perspective on it.
Let's say that the essay question is "Why you want to be a doctor?" Writing about how you want to help people is good but it won't make your essay different. Instead, include a personal story. A moment when you realized that this is your calling. 
Dig deep into your personal goals and inspirations and share them in this essay. 
If you need some help to gather your thoughts, go through some online paper writing service reviews. Once you find the best writing service, hire them to edit your essay. 
Get someone to read your essay
Another set of eyes can notice all the little mistakes that you have overlooked. 
Get someone who knows you well, like a friend or a family member, to read your essay. It should be someone close to you because they'll know if you managed to let your personality shine through.
Ask them to be completely objective. Let them tell you if there is something you should change. They can give you some ideas that you would've never thought of.
Once you get at least one confirmation that your essay is effective enough, you'll be ready to click that send button. 
Be prepared for the interview
Some scholarships require an interview as a part of the application process. Prepare for this part so that you don't get blindsided when it happens.
You may think that being yourself is enough, but practice makes it perfect. When you get into that office with the knowledge that this interview can determine your future, you can easily freeze. 
However, when you practice some possible questions, you'll see that there is nothing to worry about. Having some prepared answers in the back of your mind will help you feel more calm and relaxed.
Know that being a good interviewee always takes practice. 
Some final thoughts 
When you are faced with scholarship applications, you can feel intimidated. The thought of all those other candidates can make you give up before you even start.
That is why you need to put these tips to use. They will give you the confidence to go through that process and get that scholarship.