The justices will consider today whether Title VII covers sexual orientation and gender identity.
---
On Tuesday, the U.S. Supreme Court will consider whether sexual orientation and gender identity are categories protected by the Civil Rights act of 1964.
According to The Philadelphia Inquirer, the lawsuit was first filed by Pennsylvania activists putting pressure on the state. They tried for years—and failed for years—to convince legislators to pass a law prohibiting employers from firing someone for being gay or transgender.
The case's outcome will have implications for millions of Americans, particularly those living in any of the 29 states without laws prohibiting discrimination against LGBT people.
The Inquirer notes that Pennsylvania county attorneys are sticking by a traditional definition of what, exactly, constitutes "sex." They say that neither sexual orientation nor gender identity are subsets thereof—and for that reason, they aren't protected classes covered by the Civil Rights Act.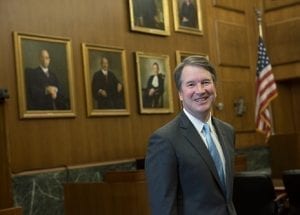 The Trump administration is backing the state. In an amicus brief, federal attorneys were keen to note that Congress has—for over 40 years—declined to enact any bill adding sexual orientation to its list of protected traits.
"The ordinary meaning of sex is biologically male or female," they wrote. "It does not include sexual orientation."
In recent years, though, the Supreme Court has played a critical role in expanding LGBT rights. However, this case is the first major gay rights issue to cross the bench since the justices decided to legalize same-sex marriage in 2015.
There's some lower court precedent lending the plaintiffs' argument credence, too. Last year, the Second U.S. Circuit Court of Appeals in New York overturned its prior rulings, determining that "sexual orientation discrimination is a subset of sex discrimination."
"Logically, because sexual orientation is a function of sex and sex is a protected characteristic under Title VII, it follows that sexual orientation is also protected," wrote Chief Judge Robert Katzmann.
However, the Wall Street Journal suggests today's Supreme Court may not uphold its progressive track record. Justice Anthony Kennedy—a conservative who defied his right-wing peers and opted to put his support behind same-sex marriage—retired last year. Newly-instated Justice Brett Kavanaugh, a Trump appointee, may diverge from his predecessor's opinion.
Mary Catherine Roper, the deputy legal director of the American Civil Liberties Union of Pennsylvania, says it's possible the court could say sexual orientation and gender identity fall under a decades-old precedent. As the Inquirer reports, the court settled Price Waterhouse v. Hopkins in 1989 by finding that Title VII prohibits discrimination based purely on gender stereotyping.
Roper did point out that even if the Supreme Court doesn't entrench LGBT rights, "people in Pennsylvania would turn more to our state laws because […] we have no obligation to follow the federal interpretation" of Title VII.
"No one should be afraid that they're going to be unable to support themselves and their family just because of who they are," Roper said. "The law should clearly protect people to earn a living."
The court will also hear a related case, brought by transgender Michigan Aimee Stephens. Stephens was fired from her position at a Detroit-area funeral home after beginning her transition from male to female. She's hoping to entrench sexual orientation as a protected category in the workforce.
Sources
Is it legal to fire a person for being gay in Pennsylvania? The Supreme Court will decide.
LGBT workers head to Supreme Court for blockbuster discrimination cases: 'I'll be that person to stand up'