The public health law allows the United States government to expel or turn away asylum-seekers during pandemics.
---
The Supreme Court will allow the United States government to retain Trump-era restrictions that allow federal immigration authorities to turn away asylum-seekers to prevent the spread of novel coronavirus.
According to P.B.S., the late December ruling will extend the program, which had been expected to expire on December 21, 2022.
The Supreme Court has since scheduled further arguments to take place in February.
P.B.S. reports that the restrictions, enacted under Title 42 of a 1944 public health law, were put into place by former President Donald Trump when novel coronavirus first began spreading in the United States in 2020.
Federal health officials estimate that Title 42 has been used to expel an estimated 2.5 million asylum-seekers, many of whom are awaiting the adjudication of their cases in Mexico.
However, immigration advocates have pushed back against the continued use of Title 42, claiming that it violates U.S. law and international standards on the treatment of asylum-seekers.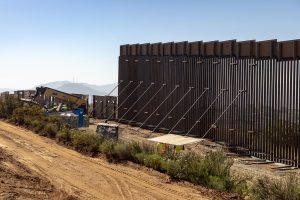 They have also argued that Title 42 is no longer necessary, considering the widespread availability of COVID-19 vaccinations and improved treatment options.
Lee Gelernt, an attorney with the American Civil Liberties Union, says that the not-for-profit organization intends to continue fighting against the public health law.
"We are deeply disappointed for all the desperate asylum seekers who will continue to suffer because of Title 42, but will continue fighting to eventually end the policy," Gelernt said.
Several Republican-led states have since praised the Supreme Court for its split, 5-4 decision, saying that the continued use of Title 42 will ease tensions along the U.S.-Mexico border.
"I'm grateful that Title 42 remains in place to help deter illegal entry at the U.S. southern border," Iowa Gov. Kim Reynolds said in a statement. "But make no mistake—this is only a temporary fix to a crisis that President Biden and his administration have ignored for two years."
In its decision, the Supreme Court said that it will evaluate whether individual states have the requisite legal standing to intervene in the litigation.
Both the federal government and immigration advocates have argued that Republican-led states waited far too long to intervene.
In their dissent, Justices Neil Gorsuch and Ketanji Brown Jackson said that, even if the court were to later find that states have the standing to intervene and Title 42 were lawfully adopted, "the emergency on which those orders were issued has long since lapsed."
The "current border crisis," the justices said, "is not a COVID crisis."
"And courts should not be in the business of perpetuating administrative edicts designed for one emergency only because elected officials have failed to address a different emergency. We are a court of law, not policymakers of last resort," the justices wrote in their dissenting option.
White House Press Secretary Karine Jean-Pierre said that, while the Biden administration will comply with the court's order, it is considering how to best lift Title 42.
"At the same time, we are advancing our preparations to manage the border in a secure, orderly, and humane way when Title 42 eventually lifts and will continue expanding legal pathways for immigration," Jean-Pierre said. "Title 42 is a public health measure, not an immigration enforcement measure, and it should not be extended indefinitely."
Sources
Supreme Court keeps pandemic-era immigration limits in place indefinitely
Supreme Court Rules to Keep Title 42, the Pandemic-Era Policy to Quickly Turn Away Migrants, for Now