Gun control advocates are suing Tamaqua School District for a recently-passed policy that allows teachers to carry firearms at school.
WFMZ reports that on Thursday, families launched a second lawsuit against the school district. Backed by Cease Fire PA, the litigation aims to topple Tamaqua's firearms policy.
"It's not staff members' place to have a weapon on them," said parent and plaintiff Angela Flack. "That's a security person's job. Those two roles are very distinct, and should be kept distinct."
Along with posing a moral quandary, the lawsuit accuses the Tamaqua school board of violating state law—an accusation district officials dispute.
"We are perfectly in the right, we are going to protect the children," said board member Nicholas Boyle.
Boyle, says WFMZ, says the district plans to hire trainers and implement programs to prepare teachers who want to take guns to class. And Boyle says that most parents back the new policy.
"I have more parents concerned about active school shooters in the school," Boyle said.
Proposals to arm teachers skyrocketed over last year's school shooting in Parkland, Florida.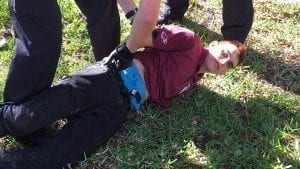 Earlier in the week, the Parkland Commission raised eyebrows by recommending that teachers carry firearms in an effort to bolster security and make classrooms "Hard targets."
Critics in Florida, Pennsylvania and elsewhere have contested that logic, pointing out that many states make getting access to firearms an easy affair.
"Doesn't deal with all the things we could do to stop shooters from the beginning," said Cease Fire PA's executive director, Shira Goodman. "Can we talk about who's getting guns and how?"
Another lawsuit targeting the policy was filed by a local teacher's union in November. It also accuses Tamaqua School District of breaking state law and has asked a judge to block the policy from taking effect.
The series of lawsuits, says Phily.com, counters the first attempt in Pennsylvania to arm teachers. But current state law prohibits anyone from bringing guns onto school campuses except for "lawful purposes"—a poorly defined qualifier that's been referenced by proponents and critics of the policy.
The Tamaqua Education Association's lawsuit says the only people allowed to bring firearms into schools are police officers and appropriately-trained, specially designated resource officers. Ordinary employees, such as teachers, wouldn't have the right background.
"The district's policy ignores state law and allows school employees who do not have state-required training or experience to carry and use firearms," said Tamaqua teachers' union president Frank Wenzel.
Boyle suggests Pennsylvania's existing laws don't make a clear distinction.
"There's no law that says you can do it, and there's no law that says you can't do it, so I think we're good," he said.
Sources
Lawsuit filed against Tamaqua School District over armed teachers policy
Union sues Tamaqua school district over armed teachers policy