Cannabis legalization is gaining traction across the U.S. There are five important things to note about this shift in law.
---
The cultivation, transportation, sale, use, and possession of marijuana is illegal under federal law in the U.S. However, the federal government has articulated that if a state passes a law to decriminalize marijuana for medical or recreational purpose, they can do so if a regulation system for cannabis is in place.
Marijuana is listed as a Schedule I drug under the Controlled Substance Act of 1970—the topmost classification under the legislation. One of the reasons why cannabis still remains illegal at the federal level is because it's classified as a Schedule | drug, as identified by the DEA, a substance that has a great potential of being abused by its user and has no acceptable medical uses.
However, a recent review from the National Academies of Sciences, Engineering, and Medicine evaluated more than ten thousand scientific studies on the medical benefits of marijuana, one of which was the use of medicinal cannabis to treat chronic back pain. 
Furthermore, certain cannabis strains are known to provide a good deal of energy, enabling you to stay active and crush the fatigue keeping you down.
In spite of all the health benefits of cannabis, it's likely to remain illegal in workplaces, which is why it's important to know how to detox.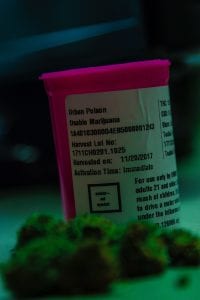 Individual state laws don't always conform to federal standards. State-level proposals for cannabis rescheduling have had mixed success. 
On November 9, 2016, the use of both medicinal and recreational cannabis was legalized in the states of California, Washington, Colorado, Alaska, Maine, Nevada, Oregon, and Massachusetts.
Another 15 states, including the U.S. Virgin Islands, have also decriminalized. The commercial distribution of marijuana is allowed in all jurisdictions where it's been legalized, except Vermont and Columbia.
Prior to January 2018, the Cole Memorandum gave some protection against the enforcement of federal law in the legalized states. Later, however, it was rescinded by former Attorney General Jeff Sessions.
The use of marijuana remains federally illegal, but some of its derivative compounds were approved by the FDA for prescription use. Cannabidiol is now sold by various online retailers who claim their products are extracted from industrial hemp; hence legal.
Although the DEA considers non-Epidiolex CBD a Schedule I drug, it has not yet taken any action to shut down these sales.
Top Five Predicted Changes In Cannabis Law
We're in a time of unparalleled growth and rapid change for the marijuana industry across the U.S.
As we look ahead at problems in the law at both the federal levels and Oregon state, here are five main changes we see on the horizon.
#1: Social Consumption
The Oregon Legislature is considering social consumption bills, which would allow the possession, consumption, and sale of cannabis products at temporary events, as well as licensed cannabis cafes and lounges.
Social consumption bills have previously failed, partly because of the necessary amendments to the Oregon Indoor Clean Air Act that legislators are hesitant to address. As the public hearings have already begun, this issue may grow enough legs for a tailored version of one of the bills in order to pass this session.
#2: Access to Banking
Limited access to financial companies creates a sub-optimal brand model for marijuana businesses and fuels safety concerns.
The SAFE Banking Act is likely to prevent federal banking regulators from hurting banks for working with marijuana-related companies that are obeying state laws. 
In March 2019, the House Finance Committee made a vote to pass the bill to the House, with advocates expecting a floor vote in May. 
With over 150 co-sponsors and strong bipartisan support to date, the bill is predicted to pass in the House. Also, advocates are hopeful that the support may put enough pressure on the Senate to pass the bill.
#3: Interstate Commerce
The Oregon Legislature is taking a bill into account that will allow for an interstate compact with states having legalized cannabis and that share borders (OR, WA, NV, and CA).
Creating an exchange of marijuana between these states could help combat overproduction problems and spillage into the unregulated market. It could also position Oregon to be a leading cannabis exporter in the future.
#4: Social Equity Issues
A Social Equity Program was first introduced in 2018 by the City of Portland to help small marijuana businesses and those impacted by marijuana prohibition directly.
In addition, a portion of the local tax revenue gained from cannabis sales goes toward grants to minority—and women-owned local marijuana businesses. Oregon, however, has made no movement on prior cannabis convictions' expungement.
Local jurisdictions in cities like Oakland are setting a precedent on the problem of expungement. We can expect that Oregon will take this issue as a nudge in the right direction.
#5: Federal Legislation
Is 2019 going to be the year of weed?
Ten states, along with the District of Columbia have marijuana laws in place that allow the legal use of cannabis for both recreational and medical purposes.
New York, Connecticut, Illinois, and New Jersey are each expected to legalize marijuana in the coming years. Public support for cannabis legalization is always high, and bills like the STATES Act will exempt legal-marijuana states from federal law enforcement. 
We don't quite have a crystal ball, but the dominoes are lining up with a goal of federal legalization on the horizon!
Wrapping Up
So, these were five of the main predicted changes we see in cannabis law. 
The year 2019 feels different. 
Cannabis enthusiasts have long celebrated 4/20—the cannabis culture, but now that companies are seeing profit potential, they're getting involved as well with things like CBD-infused Carl's Jr. hamburgers and $4.20 Lyft credits. 
Cannabis is a huge business, even if it's not legal everywhere yet. In this post, we tried to give you a comprehensive review of the legality of cannabis by U.S. jurisdiction. 
So, what will be the future of cannabis businesses?
Perhaps, only time will tell.
Nonetheless, did you find this article helpful? Share your thoughts and suggestions with us in the comments below!