The Trump administration is planning to put a blanket ban on most flavored e-cigarettes.
The announcement follows numerous reports and warnings. Hundreds of people across the country have reported strange symptoms from vaping and at least five have died from it. Teenagers are using nicotine at an ever-increasing pace, reversing decades of a downward trend.
On Wednesday morning, President Trump said the country needs to overcome its addiction.
"It's very dangerous. Children have died. People have died," the president said.
"We can't allow people to get sick," Trump said, sitting in the Oval Office. "And we can't have our kids be so affected."
Health and Human Services Secretary Alex Azar II said his agency will outline the new policy alongside the Food and Drug Administration. Together, the two departments are expected to release an action plan within the next month. Along with qualifying the administration's latest restrictions, it'll effectively remove most flavored e-cigarettes and nicotine pods from the market.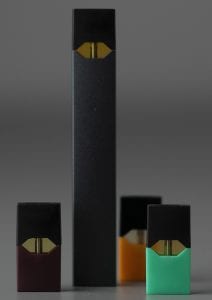 Tobacco flavors, writes The New York Times, will be among the few varieties allowed to stay. But other popular flavors—like mint and menthol—will be pushed out.
"We simply have to remove these attractive flavored products from the marketplace until they secure FDA approval," Azar said.
According to the Times, much of the vitriol against e-cigarettes can be traced to its apparent popularity among youth and young adults. Five million minors—most high school-aged—reported using e-cigarettes recently. And Azar says nearly a quarter of all American high schoolers have vaped in the past year, a percentage up five points since 2017.
Azar says that banning flavor pods simply pushes teens towards mint and menthol, rather than encouraging them to quit altogether.
"What we've seen has been, and it may be connected, a huge spiking of children's utilization of mint and menthol e-cigarettes, which remain, by all manufacturers, available in retail stores," Azar said.
While Juul's frequently received flak for its devices' popularity among teens, the company was among the first to praise the administration's move.
"We strongly agree with the need for aggressive category-wide action on flavored products," said Juul spokesman Ted Kwong.
However, other industry players haven't voiced their support. The Vapor Technology Association—which has repeatedly resisted federal attempts at e-cigarette regulation—says banning flavored pods is misguided.
"More than two million Americans have died from cigarette smoking-related illness over the last five years," said VTA in a statement. "President Trump shouldn't follow the lead of San Francisco, Mike Bloomberg and the far left anti-business extremists."
Sources
Trump Administration Plans to Ban Flavored E-Cigarettes
Trump's crackdown on flavored vaping products unlikely to take effect soon