Cohen, a former attorney for Trump, has since said that the dismissal is but evidence that Trump's case was merely an attempt at "retaliatory intimidation."
---
Donald Trump has dropped a lawsuit filed against his former attorney, Michael Cohen, just four days before the former president was scheduled to be deposed in the same case.
According to CNN, Trump's attorneys submitted a one-page filing to the court on Thursday, stating that Trump had elected to dismiss his claims against Cohen.
"Plaintiff, President Donald J. Trump, by and through undersigned counsel, hereby gives notice that pursuant to Rule 41(1)(i) he is voluntarily dismissing this action without prejudice," Trump's legal team wrote in the filing.
Trump, CNN writes, launched his $500 million lawsuit against Cohen earlier this year. In his complaint, the former president said that Cohen had breached his professional obligations by publishing a book about Trump, participating in political podcasts, and giving regular media appearances.
The lawsuit was filed several days after Trump was indicted in New York on charges relating to the payment of "hush money" to several women.
Cohen, who was Trump's attorney at the time, had allegedly facilitated the payments, and later testified before a grand jury.
While Trump had been expected to be deposed his week, his lawyers asked that the judge postpone the proceeding to give the former president time to attend a civil fraud trial in New York City.
The judge allowed a brief delay, postponing the deposition to Monday, but refused to limit its scope.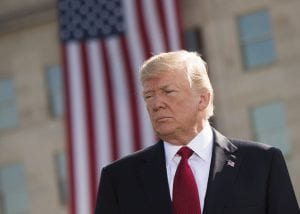 Cohen, adds The New York Times, has long insisted that Trump's lawsuit was simply an ineffective attempt at intimidation.
On Thursday, Cohen explicitly said that the claim "was nothing more than a retaliatory intimidation tactic," saying that Trump's "attempt to hide from routine discovery procedures confirms as much."
"Mr. Trump's cowardly dismissal spells the end of his latest attempt to deter me from providing truthful testimony against him," Cohen said.
A Trump spokesperson has since issued a bizarre, politically-charged statement casting the dismissal as a consequence of both the former president's "winning campaign" and a long-running "witch hunt."
"Given that President Trump is required to sit for deposition in a civil matter on Columbus Day, when he is scheduled to be in the Great State of New Hampshire, and while the President is fighting against the meritless claims that have been lodged against him in New York, Washington D.C., Florida, and Georgia, as well as continuing his winning campaign, where he is leading the Republicans by 60 points and Crooked Joe Biden by 11 points, to serve as our next President of the United States, President Trump has decided to temporarily pause his meritorious claims against Michael Cohen," a spokesperson said on social media.
"Once President Trump has prevailed in dealing with the witch hunts against him, he will continue to pursue his claims against Michael Cohen, who rightfully deserves to, and will be held accountable for his unlawful words and actions just as the Southern District of New York held him accountable for numerous non – Trump related acts  and crimes, making Cohen a very "proud" felon," they added.
Sources
Trump drops $500m lawsuit against former lawyer and fixer Michael Cohen
Trump Drops Lawsuit Against Michael Cohen, His Former Fixer
Trump drops lawsuit against Michael Cohen just days before former president was to be deposed