U.S. President Donald Trump and three of his adult children are asking a federal judge to dismiss a racketeering lawsuit that accuses them of encouraging vulnerable, desperate investors to pour money into fraud products.
---
President Donald Trump is urging a federal judge to dismiss a racketeering lawsuit that accuses him of promoting fraudulent business opportunities to vulnerable investors.
The suit, Reuters reports, accuses the Trump family of receiving millions of secret payments from 2005 to 2015. Investors, channeling money to the American Communications Network, paid up to $500 for the chance to market videophones and other electronic goods.
Two other businesses along with the American Communications Network were involved: the Trump Network, which hawked vitamins, and the Trump Institute, which charged exorbitant prices for multiday training seminars.
The plaintiffs claim Trump intentionally and falsely pretended to back the investments, voicing faith in their ability to pay real dividends. In exchange for endorsements, the A.C.N. paid Donald Trump and his family millions.
However, the lawsuit says the Trump family's objective was self-enrichment at the cost of would-be businesspeople.
"This case connects the dots at the Trump Organization and involves systematic fraud that spanned more than a decade, involved multiple Trump businesses and caused tremendous harm to thousands of hardworking Americans," said the original lawsuit, first filed in 2018.
Ultimately, the lawsuit claims that the Trump family engaged in a "pattern of racketing activity," coordinating false promises with the A.C.N. and its affiliates.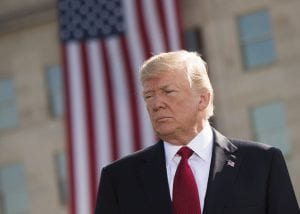 Trump, who's named in the suit along with three of his adult children, called the claims "implausible."
According to the president, the plaintiffs have yet to prove there was any intent to defraud.
"This is clearly just another effort by opponents of the president to use the court system to advance a political agenda," Trump Organization attorney Alan Garten said in 2018.
Garten claims the lawsuit's backers have ties to the Democratic Party and launched the complaint months before Midterms.
In Thursday's filing, Trump and his family said whatever endorsements they offered were simply matters of opinion or could be construed as "puffery"—exaggerated rhetoric that no reasonable person would turn to in evaluating an investment.
The defendants, Reuters reports, were also critical of the litigatory process. First filed in 2018, the lawsuit was amended and submitted again in late January.
Trump and his attorneys say the new complaint "cures none of the original defects, and in fact only highlights the implausibility, of a lawsuit that seeks to convert a celebrity endorsement by Mr. Trump and the licensing business of the Trump family, in toto, into a RICO violation by which Plaintiffs—who paid no money to any Trump business, ever-lost $499 each."
Sources
Trump, adult children urge dismissal of marketing scam lawsuit
Trump Persuaded Struggling People to Invest in Scams, Lawsuit Says