The president's attorneys claim that Congress cannot compel a former or sitting president to testify about his actions in office.
---
Former President Donald Trump has filed a lawsuit against the House committee investigating the January 6 riots at the U.S. Capitol.
According to National Public Radio, Trump filed the complaint to avoid a congressional subpoena that would compel his testimony before the Legislature.
In his lawsuit, the former president contends that, while former presidents have voluntarily agreed to provide testimony to Congress in the past, "no president or former president has ever been compelled to do so."
"Long-held precedent and practice maintain that separation of powers prohibits Congress from compelling a President to testify before it," attorney David A. Warrington said in a statement announcing the lawsuit.
Warrington further said that Trump had previously engaged with the House committee "in a good faith effort to resolve these concerns consistent with Executive Branch prerogatives and separation of powers."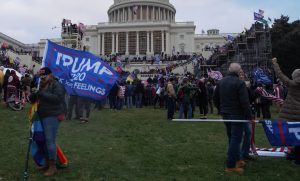 However, Trump and his legal team believe that the House "insists on pursuing a political path, leaving President Trump with no choice but to involve the third branch, the judicial branch, in this dispute between the executive and legislative branches."
"Former President Trump turns to the courts to preserve his rights and Executive Branch independence consistently upheld by the courts and endorsed by the Department of Justice," Trump's attorneys wrote in the 41-page lawsuit filed in federal court in West Palm Beach, Florida.
The complaint, notes The Guardian, broadly asserts that all presidents—former and sitting—have absolute immunity.
Nevertheless, Congress continues to seek Trump's testimony.
The executive subpoena, adds The Guardian, ordered Trump to produce documents relevant to proceedings by 4 November.
Trump will also be asked to testify about interactions with key advisers, all of whom have invoked their Fifth Amendment rights against self-incrimination.
In the subpoena, authored by Reps. Bennie Thompson (D-MS) and Liz Cheney (R-WY), Congress explained that Trump's seemingly central role in the January 6 uprisings demands his testimony.
"Because of your central role in each element," the representatives wrote, "the select committee unanimously directed the issuance of a subpoena seeking your testimony and relevant documents on these and related topics."
Trump was recently granted an extension to comply with the House's demands.
However, Trump—in his lawsuit—attached an exhibit showing that the former president purportedly found "no records" about communications he placed or received on January 6 or during the attempted uprising.
CNBC reports that the House select committee pre-emptively address some aspects of the lawsuit, suggesting that it had already considered the implications of compelling a former president to testify before it.
"We recognize that a subpoena to a former President is a significant and historic action," the committee's chairpersons wrote in a letter to Trump. "We do not take this action lightly."
Sources
Trump files lawsuit to block House Capitol attack panel's subpoena
Trump sues Jan. 6 committee to avoid testifying in the investigation
Trump sues Jan. 6 committee to block subpoena for documents, testimony