Trump's attorneys say it's illegal for a district attorney–or anyone else–to pursue a criminal case or investigation against a sitting president.
---
President Donald Trump is launching a federal lawsuit to stop the Manhattan District Attorney's Office from subpoenaing his accounting firm for tax returns and other records.
"In response to the subpoenas issued by the New York County District Attorney, we have filed a lawsuit this morning in Federal Court on behalf of the President in order to address the significant constitutional issues at stake in this case," said Trump attorney Jay Sekulow in a Thursday statement.
According to The Hill, Trump's lawsuit names several defendants: among them, accounting firm Mazars USA and Manhattan D.A. Cyrus Vance, a Democrat. It's all part of an investigation into hush-money payments purportedly made to adult film actress Stormy Daniels.
Daniels, adds The Hill, claims to have received thousands of dollars during the 2016 presidential campaign to conceal an affair she had with Donald Trump.
Vance is trying to obtain eight years of Trump's personal and business tax returns from Mazars. He's also seeking documents relating to Michael Cohen's work for the president and his varied corporate holdings.
However, the commander-in-chief's legal counsel doesn't think President Trump can be held to account while still in the Oval Office.
"Virtually 'all legal commenters agree' that a sitting President of the United States is not 'subject to the criminal process' while he is in office," Trump's attorneys wrote, citing a legal memo and Yale Law Journal article. "Yet a county prosecutor in New York, for what appears to be the first time in our nation's history, is attempting to do just that."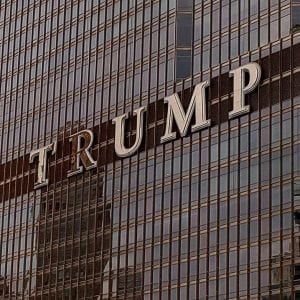 Not surprisingly, Trump has accused Vance of harboring political motivations. According to Trump, the D.A. is trying to "harass" him, potentially with the aim of damaging the president's re-election campaign.
Nevertheless, Trump's legal team admits that "no court has had to squarely consider the question" of whether or not the chief executive can be criminally prosecuted.
One way or another, it's not the only case Trump is fighting. The White House is also pushing back by subpoenas ordered by the Democrat-controlled House of Representatives.
In a statement, Mazars says it'll follow the law and comply with any obligations it has—regardless of whether Trump wins his case or topples back.
"Mazars USA will respect the legal process and fully comply with its legal obligations. We believe strongly in the ethical and professional rules and regulations that govern our industry, our work and our client interactions. As a matter of firm policy and professional rules we do not comment on the work we conduct for our clients," Mazars said in a statement procured by CNN.
In the meantime, the Manhattan D.A. isn't speaking up.
"We have received the plaintiff's complaint and will respond as appropriate in court," Danny Frost said on behalf of the office. "We will have no further comment as this process unfolds in court."
CNN notes that the subpoena will be on hold until a hearing scheduled for September 25th concludes.
Unlike many of Trump's other lawsuits, the president is being represented by private counsel rather than Justice Department attorneys.
Sources
Trump files lawsuit in bid to protect personal, corporate tax returns from release
Trump sues to block NY prosecutors' subpoena for his tax returns
Trump sues to try to stop tax returns from being sent to NY prosecutor