Speaking in a Thursday interview, President Donald Trump suggested that the United States should scrap the courts and due process for undocumented immigrants and illegal border-crossers. Calling the system 'corrupt,' the commander-in-chief questioned why so many judges are needed to oversee so many deportation cases.
"How do you hire thousands of people to be a judge?" asked Trump in a 'Fox and Friends' segment. "So it's ridiculous, we're going to the change the system.
"We have no choice for the good of our country."
The president—eloquent as ever—questioned why America doesn't just deploy and rely solely upon 'security people.'
"Other countries have what's called security people. People who stand there and say you can't come in," explained Trump. "We have thousands and thousands of judges and they need thousands of more judges. The whole system is corrupt. It's horrible."
President Trump, writes CNN, didn't explain what he meant by 'corrupt,' and neither did Fox and Friends' hosts ask.
And in a statement bizarre even by the standards of the current administration, the chief executive wondered why due process even exists at all.
"Whoever heard of a system where you put people through trials?" said Trump. "Where do these judges come from?"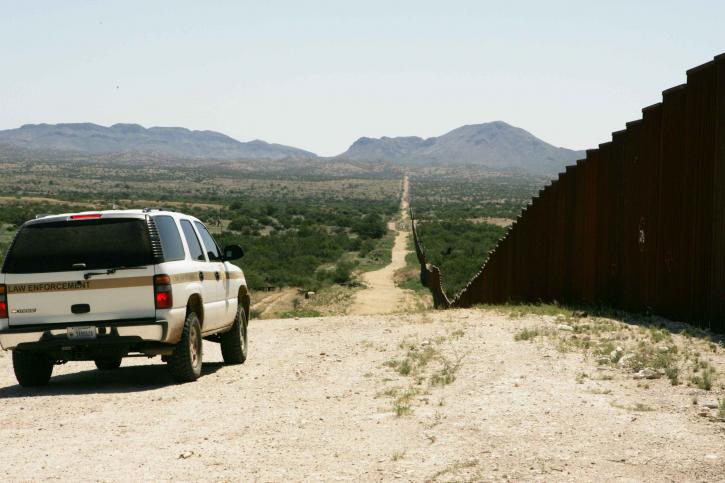 The remark might come as a surprise to anyone who follows Washington's stance on immigration and immigration policy. In the past year, President Trump and his attorney general, Jeff Sessions, both pledged to commit more border security personnel and immigration judges to the Southwest—ostensibly to fight a decrease in illegal immigration from Mexico and Central America.
Asked about Trump's comments, former immigration attorney and current Democratic Rep. Zoe Lofgren (D) said they run counter to American laws and values.
"I guess he has no belief in due process and the Constitution," said Lofgren.
CNN notes how Trump's latest policy turnabout seems to contradict the administration's own efforts to tackle illegal immigration. U.S. Attorney General Jeff Sessions, in an effort to push forward immigration courts' notorious backlogs, recommended that judges hear a set number of cases.
In his Fox interview, Trump also took the opportunity to call the MS-13 street gang 'animals,' before turning his ire to the so-called 'Green Card Lottery.'
"A lottery is ridiculous, you know. I mean, they take people from the lottery where you can imagine these countries are not putting their finest in that lottery, so I don't like the lottery," complained the president. "Chain migration is a disaster, and you look at what's going on where somebody comes in who's bad and yet they'll have 23 members of a family, not one of them do you want in this country."
Contrary to policy turnaround, these comments largely in line with the president's long-term stance on immigration—that most not from developed countries can be considered criminal or otherwise unwanted.
Sources
Trump administration to step up family separation at the border
Trump Administration Threatens Jail and Separating Children From Parents for Those Who Illegally Cross Southwest Border
Trump calls for sweeping changes to US immigration legal process
Trump on US immigration trials: 'The whole system is corrupt'