Ultimately, social justice can only be achieved with the power of the law.
---
The legal system's role in advancing social justice has been a long-debated topic. For centuries, lawyers and attorneys have used their skills to advocate for civil rights, battle inequality in legislation, and take a stand against injustice to bring about greater social equality.
From Reginald Heber Smith, who worked tirelessly to provide free legal services to the poor in the early twentieth century and Margaret Burnham, who pioneered civil rights law in the 1960s and 70s, to John Rosenberg, who used his influence as a legal scholar to help end discrimination against LGBTQIA+ people — lawyers have always been instrumental in advancing social justice.
However, access to justice still needs to be improved for many. As reported by the American Bar Association, 80% of low-income individuals cannot afford legal aid. 
According to the World Justice Project Report of 2019, "Approximately two-thirds of the world's population is not getting the justice they need for everyday problems and severe injustices. And approximately 1.4 billion people have unmet civil or administrative justice needs."
Lawyers and attorneys are catalysts for advancing social justice in the 21st century. We can see it from the examples coming from all over the world:
The Brennan Center for Justice report, which demonstrates the importance of lawyers and legal organizations in protecting voting rights in the 2020 election;
Custodio & Dubey LLP's case against Starbucks, which has helped to improve the life of people with disabilities.
At Lawrina, we aim to provide access to the law for everybody and create a living ecosystem, a bridge between lawyers and the general audience. 
Social justice is never off the table, so we consulted practicing attorneys to gain insight into how the law can be used to advance social justice in the modern world. 
What is Social Justice?
The social justice definition encompasses an array of goals. In a broad sense, it entails the promotion of justice on all levels of society and within each individual. Social justice issues include:
Racial inequalities;
Gender discrimination; 
Poverty;
Human rights violations;
Other forms of oppression. 
Even as social justice standards and ideals vary significantly between countries and cultures, one thing is certain —  the law is a powerful tool in fighting social justice, and lawyers are an integral part of the process.
Practice Intentional Advocacy
For many legal professionals, practicing law is a way to use their knowledge and skills to fight for what they believe. According to Andy M. Hale, civil rights attorney, wrongful conviction expert, and host of the Andy Hale Podcast, "Lawyers can influence the state of social justice by being intentional," as it is lawyers who make sure that everybody's voice is heard. 
Brandon Henderson, founding attorney of HMW Law, believes that being a lawyer means "approaching the state of social justice, advising individuals and organizations on the best way to navigate the legal system." The lawyer's primary responsibility is to safeguard the rights of all people. 
Brandon says that lawyers should work intentionally to protect social justice, "take up cases with far-reaching effects on society by advocating for changes in policy or laws that promote equality, reduce discrimination, or combat injustices." 
Lawyers should collaborate "with other groups, such as legislators, policymakers, or activists, to create long-term solutions to problematic issues." Only in this way can legal professionals play a vital role in creating the change they want to see in their communities.
Create Systemic Change with Strategic Litigation
Systemic change is the ultimate goal for many social justice advocates. It means addressing and correcting the root causes of injustice rather than just treating its symptoms. 
According to Dmytro Kondratiev, international lawyer, CEO & Legal Board Advisor at LLC Services, for lawyers, this could be achieved "through strategic litigation, community organizing, and advocacy" to challenge laws and policies that are discriminatory or unjust.
Dmytro believes that "lawyers can create long-lasting change in society by addressing the root causes of social injustice." It can also set a precedent to benefit many people, not just the individual client. 
James Palestini, criminal defense lawyer and Founder of Palestini Law, thinks that lawyers should use their expertise and resources "through the courts, impact litigation and establish legal precedents that will change the public policy." 
Notably, the landmark cases of Brown v. Board of Education that ensured equal access to education regardless of race and Obergefell v. Hodges, in which the U.S. Supreme Court recognized the constitutional right of same-sex couples to marry, both demonstrate the power of the law in advancing social change.
These decisions exemplify how lawyers and activists can use the law to encourage meaningful shifts in public policy and advance social equality. 
More progressively, topical issues such as police brutality, access to voting rights, and wage inequality have been brought to the public eye precisely due to powerful civil rights movements. This has further emphasized the importance of the people acknowledging their rights and being capable of working within the legal scope to improve the state of global social justice.
Advancing Social Justice Causes through Pro Bono Work
Pro bono legal work is another profound channel to promote social equality. It involves providing free legal services to those who cannot afford them. Typically, pro bono legal work is directed toward vulnerable populations such as the elderly, people with disabilities, and those living in poverty.
Miguel Custodio and Vineet Dubey, co-founders of Custodio & Dubey LLP, a personal injury law firm shared the case they took on Starbucks in a class action lawsuit alleging violations of the Americans with Disabilities Act (ADA). The suit expressed that the design of some of the premises was inaccessible for people with disabilities and put them at risk. 
Although Miguel and Vineet technically lost this case because Starbucks quickly lowered all their service counters to get the case thrown out, they still consider it a win for disabled people — "Now they can go to a Starbucks anywhere in the U.S. to order a cup of coffee safely and without obstruction." 
Migues and Vineet work improved access to public spaces for people with disabilities, and they continue to provide pro bono legal services to those in need.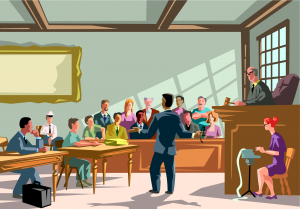 Similarly, Yong J. An, Lawyer at Law Attorney Texas, promotes pro bono work and believes that lawyers "can influence the state of social justice in several ways, including advocating for marginalized communities, using their legal skills to hold institutions accountable for systemic injustices, fighting for equitable policies and laws, and working to increase access to justice for all individuals, regardless of their socioeconomic status." 
Through pro bono legal work, lawyers can ensure that those who cannot afford legal services have access to the justice they deserve.
Develop a Legal Community
Lawyers are often better able to achieve their goals when they work together rather than individually. 
Brandon Henderson, founding attorney of HMW Law, believes that lawyers can make a lasting difference by creating a community of like-minded individuals who can come together to advance the cause of social justice. 
"Hosting workshops or seminars on the legal issues at stake is one way to bring more people into the conversation. Lawyers can even set up online forums dedicated to their cases, so people worldwide could join their client's cause." — says Brandon.
At Lawrina we strive to develop such a platform for interaction between lawyers. Through Lawrina's Community, legal professionals can share their knowledge and experience, develop skills, and raise awareness of their personal brand. Lawyers can use the power of this community to disrupt traditional barriers and ensure justice is available for all.
Conclusion
Lawyers have the power to be agents of change in society. They can work toward equitable public systems that protect social justice through intentional advocacy and strategic litigation. By joining a vibrant legal network, legal professionals can strengthen their collective voice, which has an even greater capacity for positive influence on our world.
Ultimately, social justice can only be achieved with the power of the law. By taking an active role in advocating for change and supporting underserved communities, lawyers are essential to creating a more just and equitable society. So let's not forget that by tiny steps to our global aim, we can ensure everyone has access to the legal resources they need and create an environment where justice is the norm, not the exception.