The lawsuit was filed after the Virginia legislature passed a bill retroactively prohibiting many prisoners from using credits earned toward early release.
---
The Virginia Supreme Court has agreed to hear two lawsuits challenging the Virginia Department of Corrections' sudden reversal on earned prison sentence credits.
According to The Virginian-Pilot, the claims were filed by the American Civil Liberties Union on behalf of inmates Antoine Anderson and Steven Prease.
Both Anderson and Prease, writes the Virginian-Pilot, had expected to be released early under the state's earned credits program.
However, after Virginia changed its early-release policies, the inmates—along with other prisoners in similar situations—will be forced to stay behind bars for far longer than they had expected.
Vishal Agraharkhar, a senior attorney for the A.C.L.U., said on Wednesday that the organization has asked the state Supreme Court to award the prisoners the "credits they rightfully earned."
"Mr. Anderson and Mr. Prease are just two of the hundreds of Virginians whose early release [the Virginia Department of Corrections] rescinded mere weeks before they expected to go home last summer," Agraharkar told The Virginian-Pilot in a statement. "We're glad the Supreme Court of Virginia recognizes the importance of their cases."
Geri Greenspan, another attorney with the A.C.L.U., explained that many Virginia inmates believed that, if they maintained a high standard of behavior, they could earn credits toward an early release.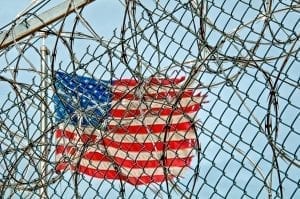 "These folks earned these sentence credits, and to be told they're going home and were going to get to see their families, their kids, their spouses, their ageing parents, that they were going to get freedom […] to be told a couple of days before that they wouldn't, it has been a traumatic experience," Greenspan said shortly after the lawsuit was filed last winter. "What happened to these people was really cruel."
The Virginia Mercury reports that state inmates were impacted by a budget change.
During a June 2022 legislative session, Virginia Gov. Glenn Youngkin asked the Republican-controlled House of Delegates and the Democrat-dominated Senate to approve budget reforms that would limit inmates with mixed sentences—or sentences for both violent and non-violent crimes—from earning enhanced good-time credits.
The change was applied retroactively.
Anderson, for instance, was told that he could expect an early summertime release.
However, after the budget change was approved, Anderson was informed that he would likely have to serve an additional 22 months, and that he would not be eligible for release until at least April of 2024.
"The budget amendment should never have been applied retroactively to revoke sentence credits already earned," the American Civil Liberties Union wrote in a 2022 press release detailing the lawsuit.
The complaint notes that Anderson was 27 years old when he was arrested in 2004.
Now, nearly 20 years later, Anderson claims that he has matured and is ready to return to his community.
"Mr. Anderson was 27 years old when he was arrested in 2004. He is now 45 years old and has changed and matured during his more than 18 years of incarceration," the American Civil Liberties Union wrote in its lawsuit. "He looks forward to his release from prison so that he can prove that he is not the same person he was twenty years ago, and can be a productive member of society and a good father and husband."
Prease, notes The Virginian-Pilot, is a military veteran who has been diagnosed with post-traumatic stress disorder.
A spokesperson for the Department of Corrections declined the Virginian-Pilot's request for comment, stating that the agency cannot offer input on pending litigation.
The case is now scheduled to proceed to trial before the Virginia Supreme Court in March 2024.
Sources
ACLU of Virginia sues Department of Corrections over earned sentence credits
Supreme Court of Virginia agrees to hear lawsuits challenging prison credits reversal