Employee discovers patient 'wall of shame' and files a complaint.
---
According to Maine's Human Rights Commission, employees at St. Mary's Hospital created a "wall of shame" where they allegedly displayed private information from disabled patients' medical records in 2016.  Print outs were visibly taped up and kept inside the door of one of the cabinets.
The commission's report indicated that MyKayla McCann, an employee who had been treated at St. Mary's, reported the existence of the wall after "at least two workers also looked at her private medical records."  McCann had also been treated at the facility.
The commission reported, "McCann was treated for a disability at St. Mary's prior to her employment as a laboratory technician assistant.  When co-workers began to make comments that seemed to reference her undisclosed disabilities, McCann suspected they had accessed her medical records and told a supervisor around September 2016."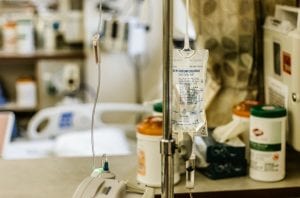 McCann took a leave of absence and returned to her position but felt "co-workers were treating her differently."  So, she submitted her resignation in January 2017, claiming a "hostile work environment" and "HIPPA violations."  She believed she was being discriminated against.  For months, she suffered an "abusive environment" where co-workers harassed her.  After resigning, she chose to file a formal complaint.
The commission wrote, "Coworkers constructed a workplace display ridiculing patients with disabilities. [McCann] encountered the display every day as part of her regular environment, making harassment pervasive.  The information posted on Shame Wall was intended to demean and humiliate and included supposed 'jokes' about the hospital's physically and mentally disabled patients."  The records made public included very personal information about body parts and bodily functions, as well as sexual activity.  One post "had strips of paper with diagnoses on them.  Some of them read, 'Drooping eyelids,' 'butt wounds,' 'unable to insert tampon,' and 'sour smell of vagina with occasional itching,'" according to the report.
President and CEO of Covenant Health, Stephen Grubbs, and president of St. Mary's Health System, Steven Jorgenson, issued a joint statement concerning the matter, saying, "[W]e sincerely apologize for the impact this situation has had on Ms. McCann."
St. Mary's initially responded it is "fully committed to ensuring this doesn't happen again."  And, said, "Covenant Health and St. Mary's Health System does not tolerate or condone discrimination or harassment of any kind, for any reason.  We also do not tolerate any violation of our patients' privacy or medical records.  We deeply regret that this situation occurred in back in 2016, and we sincerely apologize for the impact this situation has had on Ms. McCann."
The wall was removed after four months, the commission found, even though hospital administrators reported it was removed after just a few weeks.
One person involved in constructing the "wall" was terminated from the hospital and another who was found to be involved was given a warning in December 2016.  It is unclear why the second employee was only issued a warning and able to maintain employment.  McCann insisted a supervisor investigated the matter after she reported it and determined at least six to eight employees in total were involved.
Sources:
Patient 'Wall of Shame' made at hospital
Hospital apologizes for employee-made 'wall of shame' displaying patient medical information
Hospital under fire for creating 'wall of shame' featuring patients with disabilities
Hospital staff made 'wall of shame' with medical records of patients with disabilities, report finds