Security officers detained some suspicious travelers at the airport.
---
Jayesh Patel, a 32-year-old man, was detained at an Indian airport after he was caught pretending to be an elderly man in a wheelchair.  He was evidently trying to travel from New Dehli to New York City with a fake passport.  Security guards at the airport noticed he was wearing the crude disguise and asked to search him.  Patel had on a white beard, eyeglasses, and a turban, and pretended he couldn't walk.  He had a passport with a photo of an elderly man named Amrik Singh.
"He posed as if he was very old and incapacitated," Shrikant Kishore, a senior official with the Central Industrial Security Force (CISF), said.
CISF officers first became suspicious when Patel refused to let them search him, claiming he was unable to stand up.  They then took him away for further questioning, where they noticed he was wearing non-prescription glasses.
Patel eventually broke during the interview and revealed his true identity.  It is still unknown why he was trying to use a fake passport.  The CISF said, "The appearance and skin texture of the passenger seemed to be much younger than mentioned in the passport."  He has been handed over to immigration officials, who are still investigating why he was traveling under a fake name and what he planned to do.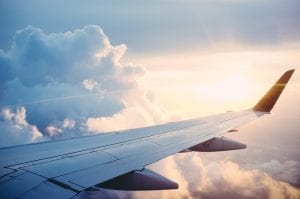 Patel's case follows another strange airport incident from the previous week, during which an American woman tried to smuggle a six-day-old baby through security.  Jennifer Erin Talbot, a 43-year-old American woman from Ohio, was arrested for allegedly attempting to smuggle the baby out of the Philippines in her carry-on luggage.  Talbot was able to get by the airport immigration counter without declaring the baby boy, but he was eventually spotted by guards.  The woman was detained and questioned.  She said she was the infant's aunt but did not have any proof to support this statement and was ultimately charged with human trafficking.
"Talbot was unable to produce any passport, boarding pass, or government permits for the baby," according to airport officials who also said she had planned to board a Delta Air Lines flight back to the United States with the newborn.
"There was really an intention to hide the baby," immigration official Grifton Medina confirmed.
"U.S. Embassy officials were notified of Talbot's arrest and told Philippine authorities that she has no criminal record in the U.S.," NBI official Manuel Dimaano explained.
The infant was turned over to government welfare personnel.  Dimaano added, "The baby's parents have been charged under a child protection law but have not been placed under arrest, although the mother has been interviewed by social welfare officers."
It is unclear what connection Talbot has with the child's parents, but Dimaano said when he and other officials asked the women what she intended to do with the baby, she replied that she just wanted to give it "a name and a church blessing."
Officials said no government travel approval had been issued for the baby, prompting them to file human trafficking charges against her.  The charges carry a maximum penalty of life imprisonment is she is convicted.
Sources:
Young man impersonating 81-year-old caught flying to New York with fake passport
Ohio woman arrested with baby hidden in bag at Philippines airport