Preemptive planning is the best way to avoid probate.
---
When someone dies in Baltimore, Maryland, the legal process that involves the validation and evaluation of a persons will and the distribution of the estate to rightful and legal beneficiaries is often initiated and is called probate.  Probate is a court supervised action to uphold the wishes of the person who made the will, or the state when a will is not present.  Solid estate planning will reduce the possibility of probate actions when a client formalizes their will, trust, and other estate planning documents.  There are two types of estates in Maryland:
A small estate is one with probate assets valued at $50,000.00 (or $100,000.00 if the spouse is the sole beneficiary).
A regular estate is an estate that is valued higher than a small estate.
A Maryland estate planning lawyer will craft documentation with the input of their client to make sure their voice is maintained in the will, or trust that will dictate what happens to property, who will raise minor children, and how an individual will spend their last days, in the event of long-term illnesses where an individual may not be able to speak for themselves, in addition to the security of naming a trusted person to conduct prescribed wishes (executor).  Closing out estates can be time-consuming and dragged out, depending upon the nature of the assets left to distribute and instances of beneficiaries contesting a will, requiring the service of an estate planning lawyer. 
Will administration
A Baltimore estate planning lawyer will do their best to effectively and expediently administer the will to save an executor the frustration of holding up payment on bills and costs related to the decedent. These can include paying off creditors, burial costs, and upkeep on property for example, along with fees for professionals who perform services for the benefit of the estate such as appraisals.  
Ways to avoid probate
Preemptive planning is the best way to avoid probate. All viable methods are carried out while the estate owner is still alive and may include:
Having a will prepared may that meets criteria of jurisdiction, amount  of assets, and type referencing ownership.  
Creating a living trust through irrevocable and revocable trusts that allow or impede managing and modifying assets listed in them along with appropriate action toward related creditors. When a person dies, their estate is transferred to the designated beneficiaries and no probate is required.
Bank accounts are financial products that skip probate with proper legal advice, by taking advantage of two available benefits, beneficiary designation and jointly owned accounts.
Beneficiary designation on insurance policies and retirement accounts where a beneficiary is named and it does not have to be part of probate.   
Seek legal counsel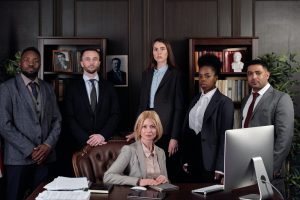 Interested parties to a Maryland probate action should consult with a tax lawyer about the impacts of non-probate assets that include those assets that have pre-designated beneficiaries, or joint interest with the right of survivorship that pass automatically to the named individual(s) upon a person's death.  The size of an estate, considerations to exempt probate assets, the named beneficiaries and other entanglements surrounding a Last Will and Testament require the assistance of experienced lawyers who understand Maryland and federal laws that will impact its administration.  
Sources: