In the event that spouses are not able to come to terms with their pet's custody through amicable resolution, they may have to turn to the court.
---
Many individuals and families choose to have pets, mainly because in some way shape, or form pets provide unconditional love, loyalty, and companionship. However, pets have a much more beneficial impact on humans than we know. The Center for Disease Control has suggested that pets can provide health benefits such as lowering blood pressure, cholesterol, and triglyceride levels, in addition to decreasing loneliness and increasing opportunities to socialize and interact with others. Often, children and pets are playmates and develop deep bonds through being each other's confidants, as well as providing a constant source of companionship. About 80% of Americans who own pets consider their pets family members, according to an article by Time. In addition, the article cites a study from the American Veterinary Medical Association (AVMA) that demonstrates that many of these family pets, primarily cats and dogs, have been adopted from animal shelters or were brought into homes as stray animals. According to current statistics, around 65% of US households have at least one pet. 
When children and adults go through a divorce, it can turn their world upside down, and having to worry about going through that process without their best friend by their side can strip them of the ability to feel comfort and relief. Many times, pets offer a form of comfort to people that no one else is able to, especially in times of high stress, such as divorce. When a pet is taken away, it can add to the pain that the children or spouse may be feeling during the difficult process. Additionally, divorce can take an emotional toll on pets as well. Many pets are used to seeing and being around the same people every day. When that changes without warning, they don't understand and can develop anxiety or a lengthy case of the blues. 
In the event that an individual is planning to get divorced in Ohio, they may be concerned about who will be responsible for caring for the family pet once the divorce has been finalized. No matter whether a couple has minor children from their marriage or not, pets are generally regarded as members of the family by them. Depending on the state in which they are getting divorced, the answer to the question will be different. There are options available to spouses in Ohio for deciding who will get the pet or how they will share time with it following the divorce. Pets are treated like other property in the eyes of the law, but spouses may be able to reach a mutual agreement about who will receive the pet. During the divorce process, it is important to consult with an experienced Ohio divorce lawyer so that they are aware of their options in regard to not only their pet but the rest of the aspects of their divorce. 
Pets Are Property in the Eyes of Ohio Law
No matter how much we love and admire our pets, Ohio law considers them to be personal property. Essentially, this means that pets are property, and therefore subject to equitable distribution, just as other assets that spouses shared during their marriage. In many states, pet custody laws have been instilled where courts treat pet custody cases similarly to shared parental custody during divorce proceedings. In these circumstances, the courts review various factors in order to determine whether or not shared or single ownership of the pet will take place. In Ohio, no such laws or practices exist. 
Alternatively, Ohio law considers pets to be property. It also states that any dog that is registered as a pet "shall be considered as personal property and have all rights and privileges and be subject to like restraints as other livestock."
Three Ways to Determine Pet Custody in a Divorce in Ohio
Prenuptial Agreement
When creating a prenuptial agreement, many couples either do not consider or do not want to talk about what will happen with the family pet in the event that a divorce occurs. However, this is the best way to have a clear and fair understanding and agreement on pet custody after a divorce. In fact, the use of pet prenups has become increasingly popular amongst newlyweds. 
However, when couples determine an agreement on their family pets in the event of divorce, they should always have their Ohio divorce attorney review the agreement to ensure it is viable and will be upheld in court. Many do not realize that there are a number of issues that can deem a prenuptial agreement invalid. This could wreak havoc on a divorcee when their spouse wants to contest invalid parts of the prenuptial agreement. Therefore, ensure that the pet prenup, as well as the entire prenup, are looked over and verified by a skilled Ohio divorce attorney before making any documents official.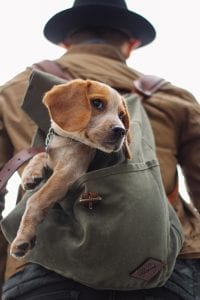 Mediation/Negotiations/Collaborative Law Approach
Oftentimes, mediation, negotiations, or the collaborative law process are the next step in determining pet custody during a divorce. Many times, informal negotiations and mediation can often resolve what is often a matter of ownership and visitation rights when discussing family pets. In some cases, divorcing couples may even have a marital settlement agreement that includes financial support for any pet expenses or medical costs in the event of shared custody or visitation. 
Mediations and informal negotiations require that both parties are willing to negotiate. This means that if one spouse wants the family pet, they may have to give something else up for it. A skilled Ohio divorce lawyer will be able to consult and advise individuals on how to proceed and negotiate for what they want in their divorce, without being taken advantage of. 
Court Decision
In the event that spouses are not able to come to terms with their pet's custody through amicable resolution, they may have to turn to the court system to make the decision for them. The courts look at several different factors to determine who retains custody of the family pet in a divorce including:
Food for the pet was purchased by which spouse?
Which spouse took the pet to receive veterinary care?
Which spouse cared for the pet's daily needs?
Has either spouse neglected or abused the pet in any way?
Does the pet have a special bond with one spouse over the other?
What are the living conditions that the pet will be in at either spouse's residence?
Does either spouse have the means to support the animal after the divorce?
More often than not, allowing the courts to decide which spouse will retain custody of the family pet can often lead to broken hearts and hard feelings. This is why it is important to think ahead and implement any needs and wants about pet ownership in the event that a divorce occurs.