The court said Armslist is exempt from liability under the Communications Decency Act.
---
The Wisconsin Supreme Court sided with an online firearms dealer Tuesday, dismissing a lawsuit that claimed the company should be held liable for a mass shooting.
The 5-1 ruling cited the federal Communications Decency Act in favor of Armslist LLC, a classified sales site for firearms. Under the act's provisions, virtual domain administrators are shielded from liability claims that stem from third-party posts and content.
Armslist is how Radcliffe Haughton managed to buy a semi-automatic pistol and dozens of rounds of ammunition in 2012, despite being the subject of a restraining order which should've barred him from being able to acquire a gun.
In October of that year, Haughton met a seller off Armslist who traded off the handgun without conducting a background check. The next day, Haughton showed up outside Azana Salon & Spa in Brookfield, Wisconsin—a city on the western edge of Milwaukee—and opened fire.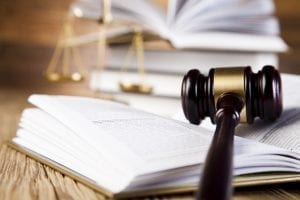 He killed his wife, an Azana and employee, and two of her co-workers. Four others were injured before Haughton turned the gun on himself.
The lawsuit, which was filed in 2015, claims Armslist implicitly condones criminal transactions by signaling it's a "safe space" for under-the-table negotiations and sales. Part of the reason Haughton was able to procure a handgun as quickly as he did is because Armslist allows users to filter out firearms arms dealers while searching the classifieds, thus ensuring he wouldn't likely face a federal background check.
The plaintiffs say Armslists' administrators should've known their filters would enable illegal sales. But Wisconsin Supreme Court Chief Justice Pat Roggensack, writing for the majority, said if the feature can be used legally, the owners can't be held responsible for third-party abuses.
And because Armslist is taken to be the publisher of third-party content, rather than its origin, it's granted immunity.
"Regardless of Armslist's knowledge or intent, the relevant question is whether [the] claim necessarily erquires Armslist to be treated as the publisher or speaker of third-patry content," Roggensack wrote. "Because it does, the negligence claim must be dismissed."
The verdict has already upset some gun control advocates, as it reverses an appeals court judgment against Armslist.
The A.P. notes that the lone dissenter, Justice Ann Walsh Bradley, disagreed on her colleagues' interpretation of the lawsuit's intent.
"The allegations here […] assert liability for Armslist not based on content provided by another," Bradley wrote in her opinion. "Rather, the allegations assert liability based on design Armslist alone created."
Her course of reasoning appears similar to that taken by an appeals court last year, which unanimously found that Armslist might be liable if its design features facilitated illegal arms transactions.
Sources
An online gun broker in Azana Spa shooting prevails in state Supreme Court