A report by Massachusetts casino regulators indicated that Wynn Resorts concealed sexual misconduct allegations for years.
---
Wynn Resorts executives concealed for years allegations of sexual misconduct against company founder Steve Wynn, according to a report by Massachusetts casino regulators compiled by the state's Gaming Commission's investigative team.  The team didn't make an official recommendation, but the 200-page report ooes state the five-member panel should evaluate the company's recent reforms.  The report came about as the commission recently opened a series of hearings on whether Wynn officials knowingly hid information sexual misconduct when it sought a casino license in 2013.
Wynn Resorts didn't dispute the facts and said it represents a "complete review."  The business has taken "steps to transform a culture that allowed sexual misconduct complaints against its founder to remain hidden for decades," according to women's rights advocates and business experts.
Steve Wynn, 77, became the first prominent CEO to resign over allegations of sexual misconduct more than a year ago.  He has denied the accusations of misconduct or engaging in any relationship that was not consensual, and yet chose to step down in February 2018.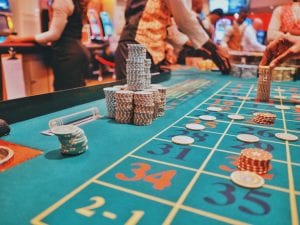 Experts praised the Resorts for instituting positive changes, such as advancing more women to key leadership positions, including its board of directors, and for ousting every executive who knew about allegations but failed to report them.  Under the reforms, Wynn Resorts also no longer enforces confidentiality in sexual harassment claims, encouraging claimants to go public.
"That sends a message that you're not going to tolerate enablers.  That being silent is going to come back and haunt you," said Kabrina Krebel Chang, a business law and ethics professor at Boston University's Questrom School of Business.
Chang added that arbitration would not have allowed employees to seek the same rights.  "There are very few rules in arbitration, and research has shown that the business wins the majority of the time," Chang said. "Payouts are also usually lower than awards in court, so the victim will not get as much in damages most likely."
Wynn Resorts spokesperson Michael Weaver said the approach Wynn Reports has taken to curtail future sexual misconduct is "equally effective" has measures taken by other companies amid #MeToo.  "Our goal of not protecting sexual harassers is the same," he said, adding that the business has enlisted Great Places to Work, a firm that conducts workplace surveys and research, to evaluate its progress.  He also noted a third of the company's executives are women and said it has received "22 substantiated cases involving employees or guests, which were resolved through some form of disciplinary action or removal since it conducted sexual harassment trainings in June."
Jennifer Chatman, a management professor at the University of California-Berkeley business school, said that more aggressive changes with regards to advancing women in the industry as a whole are needed.  "The hospitality business doesn't have some of the gender pipeline inequities of other domains like high tech and investment banking.  This should be a place where women should have been excelling for some time."
And as it makes internal reforms, Wynn Resorts should make sure it's not addressing sexual misconduct in isolation, but tackling other common workplace problems, such as racial discrimination, according to Maya Raghu, of the National Women's Law Center.  "These things are connected," she said. "They're symptoms of a larger workplace culture problem."
Sources:
Wynn Resorts executives concealed sexual misconduct accusations against Steve Wynn, gaming regulators say
Wynn Resorts hid sex-misconduct allegations against Steve Wynn, regulators say